We make a living by what we get. We make a life by what we give.

Winston S. Churchill
Back in 2018 members of our team did something really special. We may not have been able to organize something similar this year, but we are looking back and being grateful for what we've been able to do in the past. And it inspires us today, in these unprecedented times as we look forward to future opportunities. We're incredibly grateful to be able to give back like this and look forward to going even bigger next time.
Being Grateful is Universal
While the origins of Thanksgiving are not native to the Philippines, MyOutDesk's hard-working Virtual Professionals understand and appreciate the spirit of being grateful for one's blessings. Aside from the company-wide outreach that we organize each year, our Virtual Professionals in their respective regions take the holiday season to give back to their communities and to those in need.
19 of our Virtual Assistants, along with their families, selflessly gave their time to interact with the residents of the village. With them, they brought medicine, food supplies, diapers, meals, and goodies along with other items that the organization needs to ensure that their residents have what they need daily.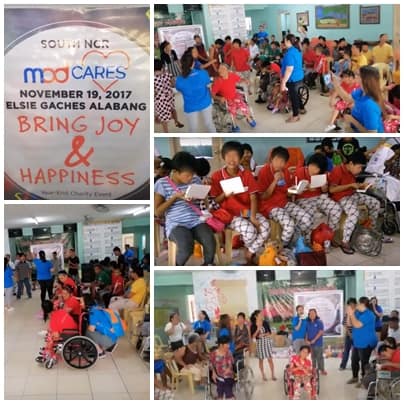 Ann Arriesgado
Support Team Member and
Head Organizer for Event
"It is our 2nd time to visit Elsie Gaches, it is a home for mentally challenged people who are thirsty for love and affection. The things we shared brought them true happiness—priceless!
Everybody enjoyed and shared wonderful smiles. The performances from our residents made our hearts melt, especially when they showed off their talents in singing and dancing. It was all games, fun and dancing and clapping and laughing—it was just an awesome day for all of us!
I've taken the spearheading role on because of one, benevolent reason—charity. I thank all the volunteers and their loved ones for spending their Sunday with us for a meaningful experience. In turn, we brought home gifts of our very own: joy and happiness."
We are extremely proud of each and every one of our hard-working Professionals who give back every single day in their own ways. And on this special holiday we would like to express gratitude to all our clients, business partners, and every single person who is a part of MyOutDesk.
To know more about MyOutDesk's Movement and our charity efforts, click here.