One apprehension we hear the most when hiring Virtual Assistants (VA) is: "How can I be sure that my VA is working?" We understand that concern. It can be not easy to delegate to someone if you are used to your staff's physical presence in your office. Trust is a huge factor in ensuring that your partnership with your VA works. At MyOutDesk, we've got you covered with our very own IPC and GPDR compliant productivity tracking software, which our clients access through their MyOutDesk Client Portal.
Forget your worries about non-productive Virtual Assistants! Have the peace of mind that you are getting real value with MyOutDesk.
MyOutDesk Client Portal
The MyOutDesk client portal is a place where you can manage all aspects of your MyOutDesk account in ONE PLACE. Typically, when you hire a Virtual assistant, you have to provide these kinds of productivity tracking systems yourself. MyOutDesk understands the importance of having these systems in place, so we created one for our clients. Not only was this portal created for productivity management but for your convenience as well. Everything you need is in one place.
Real-Time Visibility – This feature allows you to have real-time visibility into your virtual assistant's productivity as they work during their shift. You get real-time status updates, so you are never left in the dark as to what your Virtual Assistant is working on!
Billing and Invoicing – Through our client portal, you can also keep track of your billing and invoices. You can manage your information and view and print your invoices as well. You won't need to wait for anyone to send you your invoice or call anyone as all the information will be ready for you here.
Work History – On our Client Portal, you will access historical data on your Virtual Assistant's work hours.
Support – If you need any assistance with your Virtual Assistant, say, for example, you need help to train them on a particular system, or you want to change their schedule—whatever need arises, you can get support by merely logging in to our Client Portal.
Manage Email Preferences – You can set your preferences in receiving emails from us through here as well.
MyTimeIn – MyTimeIn is our in-house scheduling software that ensures your Virtual Professional is on time and productive.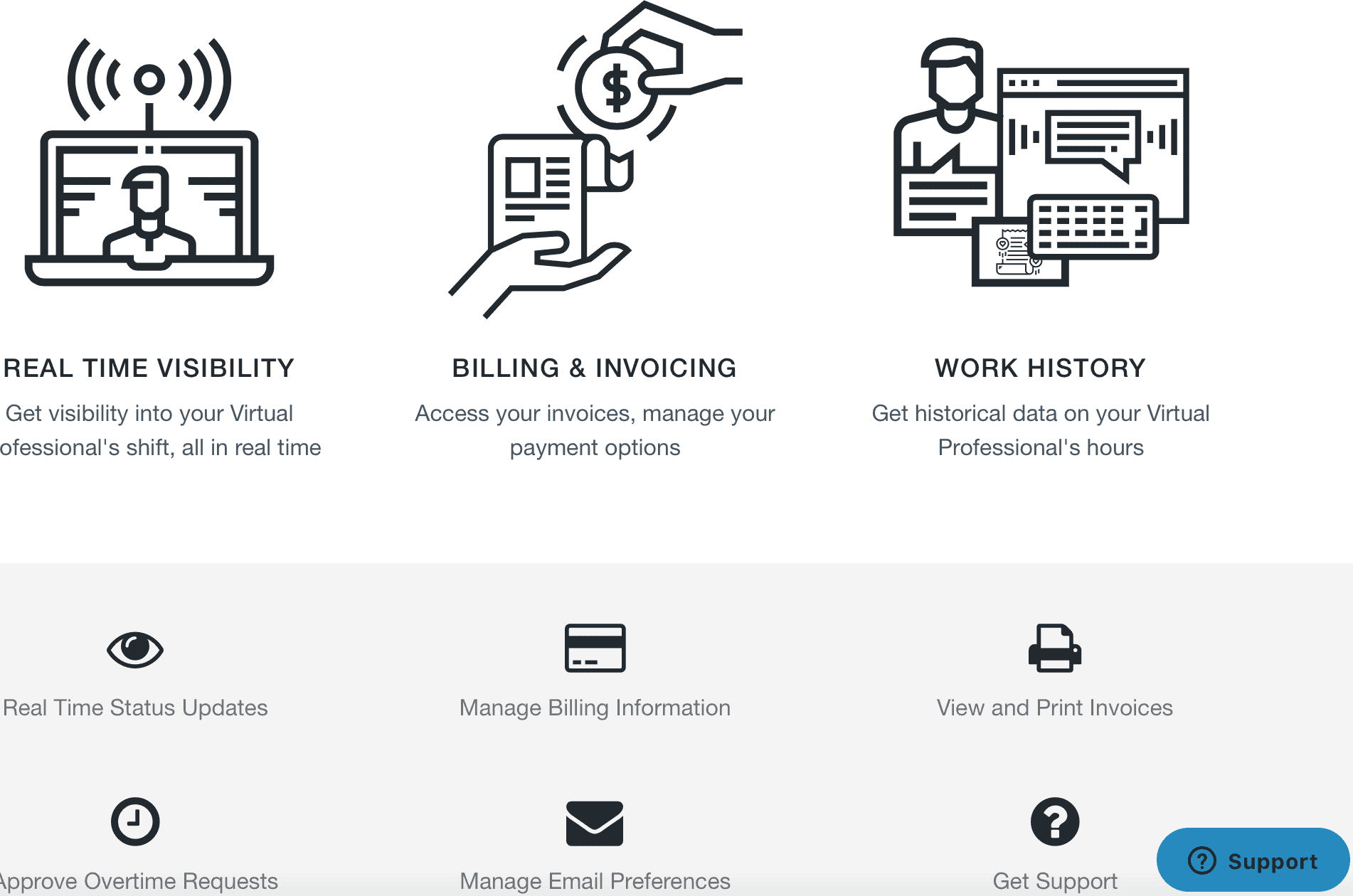 Our Client Portal is in place to breathe easier and be assured that you are getting the value you deserve. Global is the new local, and we want to make this concept a reality for you.