As they say, timing is everything. Before you go on — if you want to improve your calling capacity and close more leads, be sure to book your 'Grow Virtual' Strategy Session.
According to several studies, 80% of "non-routine" purchases are made after at least 5 follow-ups.
44% of salespeople give up after one "no" response. 22% give up after two.
The other 66% of agents will never even follow up a third time! — A virtual assistant will produce your follow-up calls at FULL-TIME capacity … costing up to 70% LESS than traditional employee's wages. Increase your lead flow & nurturing process today.
Fortune is in the follow-up.
The Sure🔥 method to convert leads: Hire an Inside Sales Virtual Assistant!
It's not about just being about being able to close the call. Equally important is how much you are calling quantity and your frequency. You need to make sure that you're there when they're finally ready to buy. Here's how many attempts it takes on average to close a deal for each type of lead source: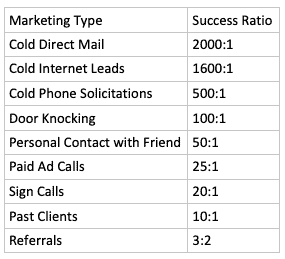 Don't let these numbers scare you. You can work smart by leverage virtual assistants to do this work for you. MyOutDesk can save you up to 70% on employment costs with experienced, career virtual assistant professionals.
Instead of paying into a call center subscription with limited controls, Sean created his very own internal call center. Where he can customize all scripts, make all decisions, and monitor for feedback. You can gain market share with the powerhouse of a virtual inside sales team, too!
Dynamic business duo Olivia Cooley & Charles Pulliam share, "Without virtual assistants (VAs), it limits us and we have more responsibilities in-house. A VA is significantly more affordable to the business pattern. We get more value for the price. This is essential and instrumental for our growth, not only now but long-term… 3 to 5 years out, we will continue to grow our number of VAs."
Achieve more – the first step is getting the help you need to reach the next level in your business.