As a company, MyOutDesk is built to deliver instant talent for your business as you're growing and scaling — basically removing all the friction from having team members jump into your business.
We save our clients over $55 million dollars every year, and we'd love to save your network money too!
For every successful referral you send, we pay you $400 once they use MyOutDesk for a month!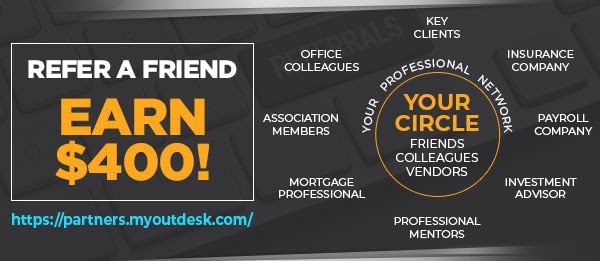 Why Refer MyOutDesk?
7 Impressive Reasons
#1 | 90% of proceeds go back to the client
90% of what you pay to MyOutDesk actually goes to our virtual professionals in the form of compensation, benefits, support, and all of the good stuff that we do as a company to support your account.
We are a company that's designed to pass the savings onto our customers, and we need lots of folks, which is why we have 1,500 virtual professionals staffed at companies, just like yours.
#2 | We are a legal entity both in the Philippines and the US
This means that:
Our contracts protect you as a customer while protecting your data
Assistants have a non-compete agreement. They are under agreements with MyOutDesk which holds them to a higher level of standards.
We also have a working relationship with the government, the NBI (PH equivalent of FBI), CPA firms, and corporate attorneys. (We help assistants with their government contribution.)
#3 | 14 years of relationships & Establishment
We've built a strong foundation working closely with legal institutions and vendors for 14 years — which has helped reduce your overall cost for a quality virtual assistant.
For example, we negotiated an 11% increased medical benefits cost increase down to ZERO percent, due to our established worth. This cost would have otherwise been passed onto the consumer — but won't worry, we've got your back!
#4 | We eliminate the normal turnover cost
Turnover typically costs the employer 2.5x the employee's annual salary. (Not with MyOutDesk!)
"Turnover is the enemy of scale." What might cost you $50,000 in losses, partnering with MyOutDesk eliminates that concern. MyOutDesk has a dedicated client support team — who will address all concerns accordingly with your virtual assistant in the small chance that things do not work out.
#5 | Dedicated HR, IT, Recruitment & Training Staff
Eliminate the normal overhead of hiring a team. Add a new hire without the headaches of payroll, taxes, insurance, retirement, office & equipment costs. Also, we have the capacity for collaborations, partnered networking, projects, and event participation as you grow and scale.
#6 | MyTimeIn – Track your assistant
At scale, you can view and track your virtual assistants' internet speeds, the status of the operating system, and real-time productivity — giving you peace of mind and ensured efforts.
#7 | Charity Work
MyOutDesk has an established charity and giving program, continually looking into opportunities to make an impact in our communities in the United States and in the Philippines. We've renovated an orphanage, built schools, and supported a senior home — among many other projects. Check out MOD Movement.
At MyOutDesk, we are humbled and honored to serve and work with clients like you, and these are just some of the reasons to refer MyOutDesk to your network!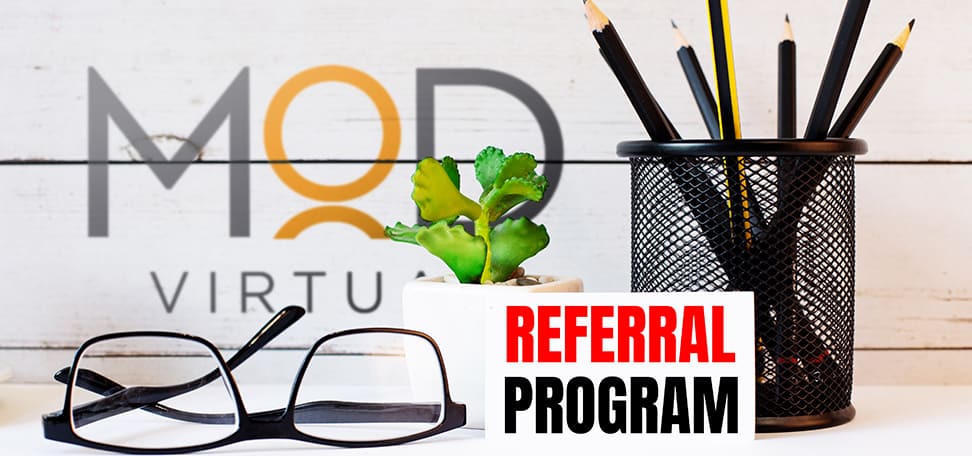 Here's how it works
1) You tell your friends, colleagues, and business contacts about MyOutDesk.
2) When they sign up with us, we'll give you $400 once they hire a Virtual Assistant and use our services for at least one month.
3) You get cashback for helping them save money!
Today's use cases for these task-oriented professionals are vast.
"Outsourcing makes the hustle better — because you're not burdened with many/growing expenses that you'll need to figure out how to cover and hit profit"