Winning keyword strategies can be a crucial method for your search engine marketing campaigns. Your keyword strategy should comprise high-performing keywords that will bring in traffic to your website and bring you more business. Selecting the best keywords for your online advertisements and other content such as blogs can make all the difference in your campaigns, determining how well your website will rank on Google and other search engine platforms.
Ramp up your marketing campaigns with a MyOutDesk Virtual Assistant!
Using Real Estate keywords can be a great way to find more quality leads. These leads that you find based on keyword searches are higher in quality because you know that they are actively searching for something that is in your wheelhouse.
Unfortunately, finding the best real estate keywords for your farm area is going to take a lot more work than copy/pasting a list from a website. There is a simple reason why keywords from a generic list like this will not get you any leads from your website:
Generic keyword lists only show what most people are searching for. They DO NOT mention that most of them are almost impossible to rank for. Even Zillow has trouble ranking for some keywords!
Even if by some miracle you manage to rank near Zillow, Trulia, your local MLS, or giant chain brokerages like Keller Williams and Compass, getting traffic outside your farm area is not going to help you close more deals.
However, you can take cues from highly-searched keywords such as: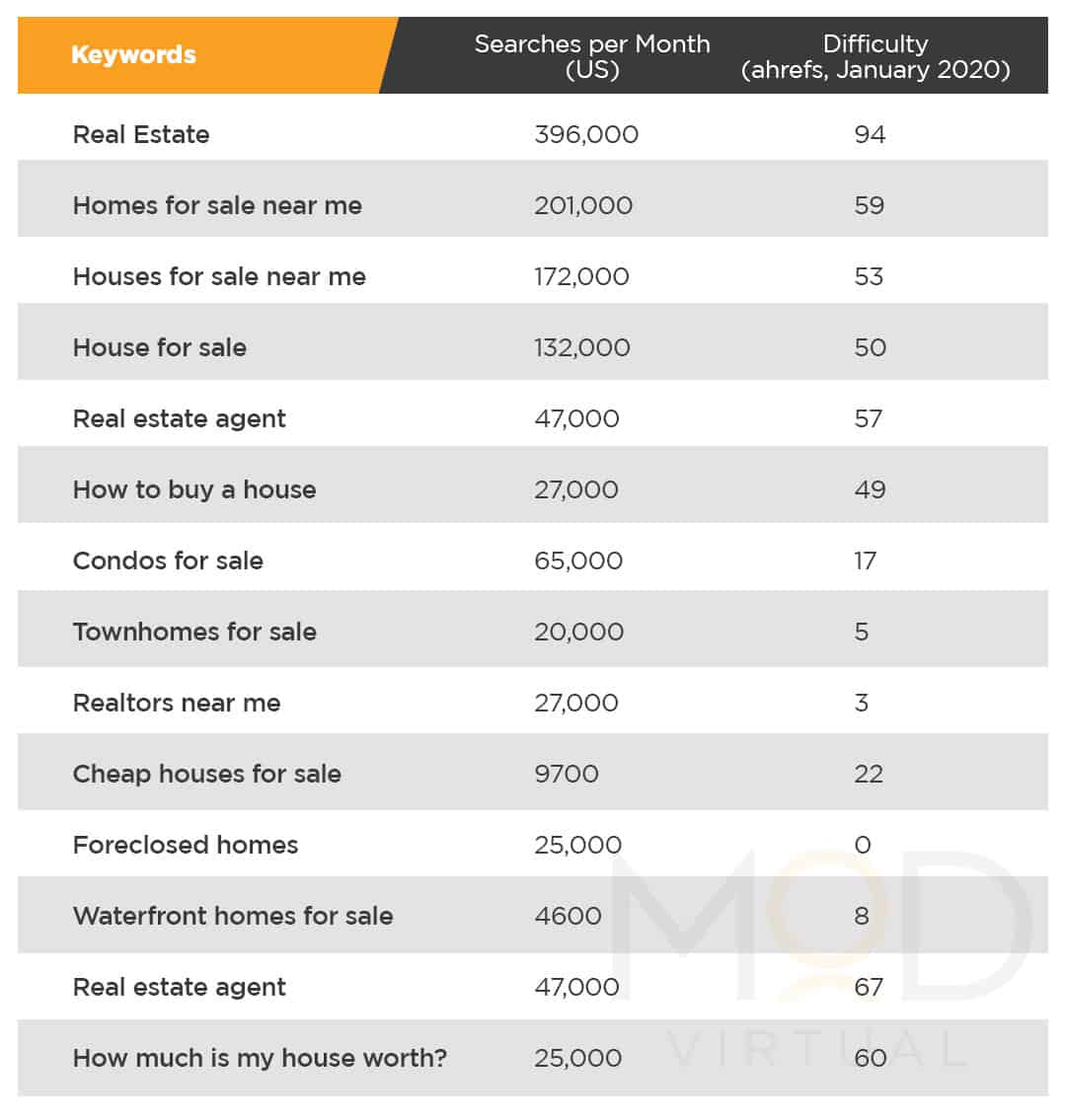 Since the goal of your website is to get traffic and leads, the main criteria that professional bloggers use to measure the editorial value of a keyword is the number of searches it gets per month on Google.
Search Volume: Potential Monthly Traffic
This number is called the keyword's search volume. As you might imagine, the higher the search volume the more potential traffic you can get from writing about it, but search volume alone only tells us how many people search for a term.
As you can imagine, the higher the search volume, the more websites trying to compete for the top spots in Google for that term. The reason why is clear; if you rank No. 1 for a very high volume keyword, your site will get a ton of traffic.
Keyword Difficulty: How hard it is to Rank For a Keyword
Luckily, SEO software companies like Moz and Ahrefs came up with a way to measure how hard it is to rank for specific keywords. This is called keyword difficulty. As we said before, generally speaking, the higher the search volume, the higher the difficulty since there will be more competition, but some keywords with relatively low search volume can have very high difficulty.
EAT Signals
EAT is an acronym coined by Google that stands for expertise, authority, and trustworthiness—three criteria that Google uses besides keywords in order to decide which article from which website gets ranked highly. How Google measures EAT is a bit too complicated to get into here, but it's still important to understand that Google values EAT highly. Much more highly than keywords!
Domain Authority
Domain authority is less about the EAT of your company and more about the trustworthiness of your website. Things like the age of a website (older is better), the quality of writing, other high-quality sites linking to yours, and low spam scores all contribute to a site's domain authority.
Here's a quick example: The National Association of Realtors has been online since the mid-nineties and is pretty much the most trustworthy source for real estate information in the country. Therefore, Google ranks content from NAR very highly. If NAR decides to write an article on dual agency, chances are it will rank very well and very quickly.
(Source: theclose.com)
What you really need to do is do a lot of research and monitor search result pages in order to come up with a list of keywords that will work for you and your market. Your best bet is to invest in a keyword search tool that will help you with your research, such as MOZ or SEMrush, we've had experience with these 2 in particular and can say that they work quite well.
Just remember that there are no shortcuts. Google has come up with algorithms that will truly determine if your keywords are legitimate or if you are just seeding them on your website, unlike before, this used to work but doesn't anymore. Use your keyword search tool to scope out the competition as well! Look at what they are using and how they are doing.
Once you have come up with your list of keywords, plan content around them. As we mentioned earlier, simply peppering them in let say, a blog post, simply will not work. You need to make sure that the content is sound and is actually related and speaks to your audience. Not only will it help with your ranking but it will also be good for when a potential lead finds the answers they are looking for. Remember that your lead takes priority over google rankings. Craft your titles and descriptions to be specific with keywords in mind as well.
Using a keyword strategy can be highly effective but can also take up a lot of time from planning to execution. Having someone on your team dedicated to this strategy and your marketing, in general, is a great way to ensure that everything is always consistent and ship-shape. A Virtual Assistant can do all of that for you and more.