Guests: Cecil Cummins, Daniel Ramsey
Recorded: February 14, 2022
Excerpt
True stories are great because when it has a happy ending, you can imagine yourself on that same hero's journey. You know it's possible because it's not a work of fiction; others like you have really done it. Take the story here of Cecil Cummins for example. He's the Vice President at Hyatt Commercial with five years of experience in the real estate industry, and a focus on commercial properties. He's also a firm believer in the value of virtual assistants, which lead him to MyOutDesk. But he didn't start with us; he started with the competition. And we're glad he did! We really are; because when someone tries the other guys before us it just strengthens the proof of the value we offer. Our CEO Daniel Ramsey hopped on a Zoom call with Cecil to talk about his experience picking the right virtual assistant service for his company's needs. It ended up being a very informative discussion, one which we highly recommend you give a watch! Or, at least read the breakdown here.
Passion, Purpose, Results
Those are the three words Cecil used to describe what drives him professionally. Those are the adjectives he keeps in mind during his daily hustle, driving him to always find the best way to do what Hyatt Commercial needs doing. To quote Cecil, "the biggest aspect of this business is being able to prepare for the infinite game, not the transactional game". In short, prepare for an ongoing future rather than a one-by-one present. This means being aware of what your company needs to maintain healthy growth indefinitely. Identify pain points and evaluate the ROI for everything you do, because you can always do better. Cecil realized that which led him to try outsourcing some of his "busy work" to qualified professionals working remotely. Because when you do that, you save on hiring costs and you relieve your loyal internal employees of unnecessary workload stress. It's a win/win, truly.
"The beauty of using a virtual assistant is that you can design it in a way that works for you."
Cecil found himself slowly getting bogged down by busy work and non-dollar-generating tasks. For example, one night he realized he was doing some forensic accounting at 11 PM and wondered… why? Cecil and MyOutDesk agree on a very specific notion; time is our most valuable asset, so we'll never get to where we want to be if we keep wasting it. So Cecil, being the open-minded and successful leader that he is, began looking for cost-effective help. He asked himself, "What am I not doing but that I want to do, and just can't justify taking time from other activities to make happen?". This train of thought led him to try outsourcing some tasks to virtual assistants from other companies. The results weren't quite up to par for Cecil and Hyatt, so he kept browsing other options.
Enter MyOutDesk
With other services, you often rely on customer reviews of individual assistants, with the best people of course being the most expensive and hard to lockdown. Cecil discovered with MyOutDesk that our pool of available professionals works a bit differently. Rather than just hiring anyone even slightly qualified and letting the customers evaluate them, we evaluate them ourselves first. If they are up to our quality standards, meaning they have the same high level of experience/talent/ education that our customers have come to expect, then they get added to our pool and categorized based on skillset. So when a company comes to us for an assistant they tell us what exactly they need them for and then we give them vetted professionals tailored to their needs. Basically, our base-level assistants are on par with the highest-rated assistants from the competition. That's a pretty enticing guarantee.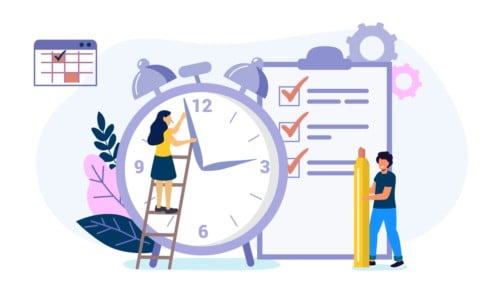 When Cecil came to us he had a very clear goal; to have somebody come in and help him manage the nitty-gritty details of the business that need doing but don't make money short-term. There are a lot of tasks that any business needs to do, and they often fall in the lap of the next available person on your team. It's easy for these tasks to feel cumbersome and like you're wasting your time and energy because the ROI on them isn't immediate or clear. You get more satisfaction and feel better when the work you're doing gets immediate results. But that doesn't make those other tasks any less important. Cecil knows that, so he saw the value in outsourcing tasks like that to not only free up his own time but to relieve some pressure from his local team. All at a massive saving compared to if he had hired a local assistant to do the same thing.
Too Good To Be True?
In the name of full transparency, let's talk about the concerns Cecil had when he came to us. He was worried about the initial training phase. Every company has its own processes that work for them, involving different software and procedures, and expectations. A common concern we see is over the downtime a company might experience during the onboarding process. Luckily, Cecil, had that concern extinguished when he hit the ground running with one of our virtual assistants. She came already experienced in his particular industry and with the kinds of programs he used. Not to mention she had a network of friends who were also assistants, whom she was able to turn to for help whenever she had a question that neither she nor Cecil had an answer for. And that's just one example of a time he was impressed with his experience working with us.
Long story short; Cecil saw an opportunity to do what he was already successful at, but even better. Better for his time, his team, and the company. He did his homework, sampled the goods, and picked his favorite. Hence why he was happy to get on camera with Daniel and talk all about it, for the sake of anyone else curious about taking a similar journey. So if you're "anyone else", you should click the link below to request a consultation with one of our experts. We'll do for you exactly what we did for Cecil and Hyatt Commercial; hear you out, evaluate your needs, and then pitch an action plan to meet those needs. No obligations, no pressure; just information. You have nothing to lose and everything to gain.