Excerpt
If you've used one lead generation service, then you've used them all. Except that's not true in the case of Likeable Agent. They're a lead generation company that goes the extra mile for their clients, and they couldn't do it without virtual assistants. In this testimonial our CEO, Daniel Ramsey had a very insightful chat with John Reh, the founder of Likeable Agent. John has been utilizing virtual assistants since 2016, to help him and his team with a wide variety of tasks. Ranging from simple inbox management to conducting research, his VA's(virtual assistants) have become happy, productive members of his team. Read on, and watch above, to learn exactly how he was able to find so much success employing professionals halfway around the world.
Hire The Person, Train The Skills
John had years of experience as a recruiter before he founded his own business. That experience came in handy when turning to MyOutDesk for some virtual assistants. We talent match our people to fit specific business needs, but finding the right person goes way beyond just skills on paper. John actually finds more value in finding the right personality first, then building up the necessary skills. Because anyone can learn how to do just about anything, but not everyone is reliable, friendly, passionate or motivated. And John wanted someone he could count on as well as get along with before he trusted them with valuable business duties. Luckily we value personality as well when we hire. Every VA we've assigned has not only got the job done well but got along great doing it.
 "Consider where you can use help. What can I do and what should I do? Those are often different things; could I be doing something that's more productive?"
What brought John to MyOutDesk was the realization that he was spending too much time doing work that should be delegated out. He needed reliable help with the busy work so that he could focus his experienced time on more dollar-productive tasks. Like focusing more on client relations, personally. Onboarding his new VA's was easy because his company already had created templates for most of the tasks they'd be handing over. One such task was able to exist because of the VA's; customer support. They created an inbox and a text message line specifically for existing customers to reach out to for help. The VA managed incoming questions and resolved issues accordingly.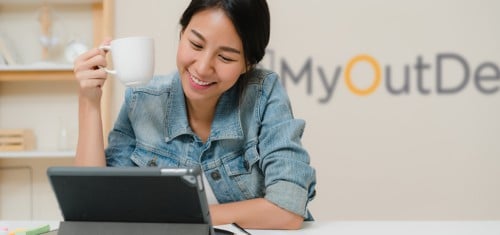 They Walk So You Can Run
One of the ways Likeable Agent sets itself apart from other lead generation companies is the quality of leads they provide. They don't just hand over a list of cold calls, they take time to curate those leads and organize them based on viability. This is another area that our VA's came in handy; doing the research needed to better understand those leads. They do the homework to learn about every lead and determine who is warm and who is cold. This frees up people like John to focus their time on those warm leads, so they can be sure the leads they provide are truly valuable. And on the flip side, they have VA's handling new customer intake. Building up the accounts of new clients, welcome them to LikeableAgent while local employees focus on getting more clients. It's a beautiful cycle. 
"They show up early and stay late. Very, very dedicated and I appreciate that a lot."
It's now been several years since John and his team at Likeable Agent started using our VA's, and the success continues. All of the busy work is handled in an organized, efficient manner. Meanwhile, John is free to focus on building relationships and save money while he's at it. He claims his income quintupled in the first year after onboarding a couple of VA's. That's wild! If you're at all interested in a similarly wild story of success for your growing business, don't hesitate to reach out. The link is below, it takes seconds to schedule a free one-on-one consultation. We'll discuss the problems you're facing and determine if a VA might help solve them.