Key Takeaway
To scale your Law Firm and transition from Attorney to CEO effectively, harness the untapped potential of virtual assistants. Start them in administrative roles and watch them flourish in complexity, ultimately boosting your firm's productivity and bottom line while seamlessly integrating with your in-house team. Opt for the blended model, as championed by top lawyers, and watch your operations soar.
Going from an Attorney to the CEO role of your own Law Firm is not an easy feat. MyOutDesk clients Bill Hulsey and Brandon Burg give insight into the transition and share how to best use a virtual assistant to scale from a Lawyer's standpoint. If you are an attorney and you're dead set on Scaling your Law Firm, both Lawyers agree that starting your virtual assistant off in an administrative role is best. Soon enough, they will be thriving with more complex tasks.
"We started Ivy out as a receptionist, and over a period of time she has proven herself to be capable of so much more- she's beyond a receptionist," said Bill Hulsey.
If you have ever considered a Virtual Assistant for your Law Firm but aren't entirely clear on what responsibilities to delegate, let us help you. Below are 30 tasks an attorney improves productivity and scales their Law Firm with a virtual assistant.
Administrative Tasks and Busywork
Manage tasks and deadlines
Manage calls
Manage emails
Deliver messages
Document Organization and File Management (utilizing case data software, such as Clio)
Manage client case
Create documents
File documents
Organize documents
Data Collection, Review, and Entry
Taking Statement
Setting up the files
Retrieve deeds
Review account statements
Prepare letters
Obtain addresses
Retrieving pertinent information from the property appraiser's website
Set up the file for final review.
Managing in-person Responsibilities
Schedule hearings
Schedule meetings
Schedule court depositions
Help with Research
Conduct simple legal research, using primary legal sources like Fastcase or Casetext within Clio
Manage Your Court Dates
Confirm court dates
Communicate confirmation with the attorneys, paralegals, and assistants
Coordinating and Booking Travel
Search and book flights
Search and book hotels
Search and book transportation
Your Bookkeeping Needs
Handle client invoicing
Accept payments
Keep track of recurring invoices
Handle association dues
A Virtual Assistant will help ensure projects run efficiently and smoothly to enable Lawyers to focus on the clients' needs. Burg explains, "Our virtual assistants are 100% of our team- they are on our calls, they have the same expectations of performance as our US-based employees. We have team rocks that they are a part of as we all work together. There is zero distinction between our Virtual Assistants and my Assistant or Receptionist, or any of my other Attorneys regarding performance expectations."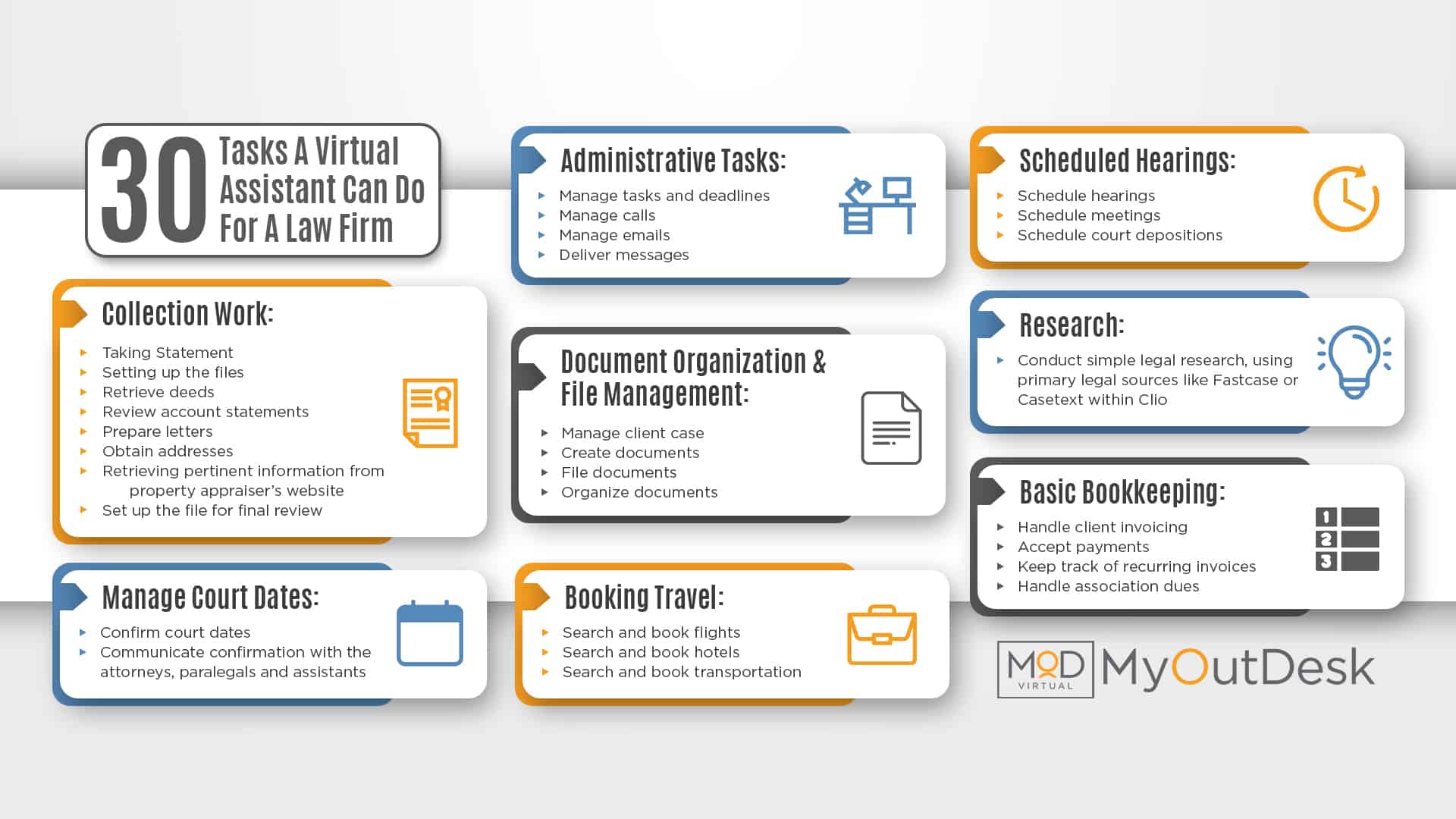 Blended Model System
Burg Wynn, PA is successfully running on a blended model system. Their US team handles the license and strategic projects, requiring many years of experience and expertise. Then all additional tasks are supported with a virtual assistant; 80% of the doing can be done by a virtual professional. Not only are you going to drop typically 5 to 10% to your bottom line as a company because you are saving money, but your US team is going to feel supported. It's a fantastic model that works. Choose MyOutDesk to complement your in-house team today with a qualified virtual assistant.