Key Takeaway
Leveraging Microsoft Teams with a vetted virtual assistant from MyOutDesk streamlines communication and task management, enhancing remote collaboration and efficiency. By integrating Teams' powerful features, businesses can seamlessly manage projects, uphold professional standards, and build stronger relationships with virtual team members.
Working with a professionally vetted virtual assistant from MyOutDesk is one of the easiest things a growing business can try. But did you know that the Microsoft Team app can make working with a remote virtual assistant even easier? Learn 5 tips for getting the most out of MS Teams and your VA!
Microsoft Teams has been around for several years but the rise in remote work due to the COVID pandemic drove major growth. The number of active users increased by 50 percent from April 2020 to October 2020.
Because of Teams' popularity, Microsoft is constantly adding new features, making the Microsoft Team app a perfect solution for working with a virtual assistant.
Let's look at 5 tips for getting the most out of Teams.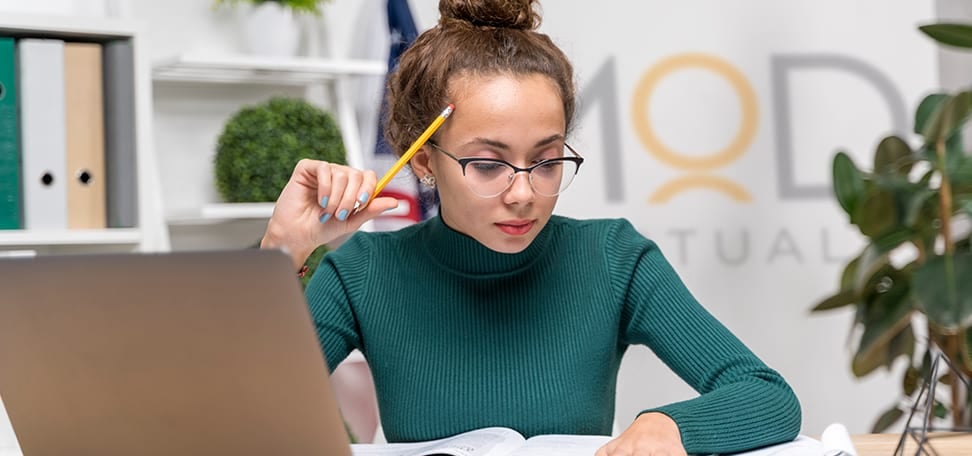 1. Use the Whole Office 365 Suite
If you're not already using all of the apps available in Microsoft's Office 365 suite, consider switching from whatever platform you're currently on.
Teams works better with Microsoft's own applications than any other office suite, giving you a much stronger integration between your documents and communication.
2. Use Microsoft Team App Integrations With Other Tools
While Teams integrates tightly with Office 365, that doesn't mean you can only use it with Microsoft applications.
Microsoft provides a large selection of apps for MS Teams that integrate with other services. You can connect Teams to tools like Trello for project management or Twitter for customer service, for example.
3. Treat Teams Meetings the Way You Would Treat In-Person Meetings
While Teams can work like a chat tool or email, it's best not to treat it as a "social" tool. Set expectations for your virtual assistants upfront and treat virtual meetings through Teams the same way you would treat in-person meetings.
Expect people to be on time, to be on camera, to present themselves professionally, and anything else you would expect of an employee working in your office.
4. Take the Time to Learn How to Use Teams Effectively
Learning how to use the Microsoft Team app effectively gives you all kinds of options for working with your VA. It offers a lot of powerful features, not all of which are obvious.
For example, you can use the screen sharing feature in Teams to show your virtual assistant what you want them to do. And if you use the meeting recording feature to create a recording of that session, they'll have a training video they can refer back to while they're getting up to speed with your processes.
5. Use Planner to Stay Organized
The Planner feature in MS Teams is a perfect way to break down a project when you're working with virtual assistant services. You can set up "buckets" which are essentially projects, each with a list of tasks to be completed.
You can assign those tasks to different people, including your virtual assistant, and get notifications as they complete their assigned tasks. You can also chart the project's progress with the built-in reporting features in Planner.
Build a Stronger Relationship With Your VA Through MS Teams
The Microsoft Team app will help you communicate with your virtual assistant as well as plan and track the progress of any projects they're working on. This gives you a better picture of your business and helps your VA have a clear idea of your expectations.
If you're looking for a virtual assistant to help grow your business, MyOutDesk can help. We offer a range of virtual assistant services for businesses of all sizes.
Get in touch with us today to schedule a 1-on-1 consultation.