Key Takeaway
This article is a definitive guide to virtual receptionists: from their role in a business, the benefits of hiring them and a breakdown of the costs involved. It also features useful tips on how to choose the right virtual receptionist service for your business.
When your existing or potential customers reach out to your business, who is their usual point of first contact? Say they want to schedule an appointment, inquire about a job opening, or request to speak with someone specific; who's filtering them accordingly? Any business that wants to be taken seriously needs some form of a receptionist on the frontline. Even if you're not quite busy enough to really need one, having one can be extremely beneficial. In addition to helping you respond faster and stay more organized, it also helps with the perception of your business. And remember; perception is reality. If you want people to think of your business as successful and serious then you need to look like you are.
An easy way that a business at any stage can flex that receptionist's muscle is by hiring someone remote for the position. Why not try a MyOutDesk Virtual Receptionist? They've become increasingly popular among companies just getting started, as well as established companies trying to be more efficient and cost-effective. Those just happen to be two things we specialize in at MyOutDesk.
Virtual Receptionist vs. In-Person Receptionist
By definition, a traditional receptionist is an employee taking an office or administrative support position. The work is usually performed in a waiting area such as a lobby or front office desk of an organization or business. Receptionist duties are not limited to welcoming people who walk in the door. However – a receptionist can take over a multitude of duties needed to keep a business running.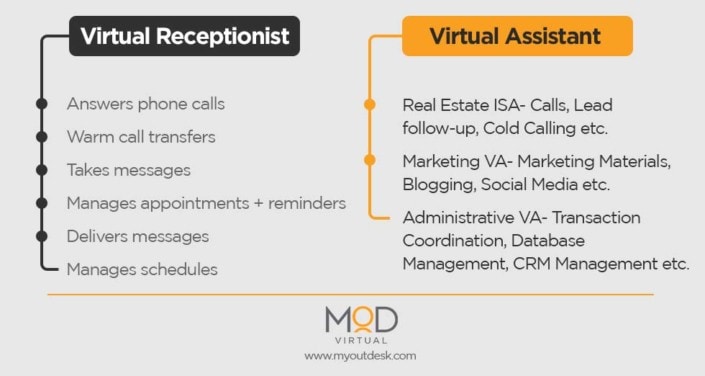 A MyOutDesk Virtual Receptionist is no different from the in-person receptionist you're used to, other than their location. They can do virtually everything that a traditional receptionist can do but without needing a front desk of yours to sit at. And at a fraction of the cost! Furthermore, it's important to note they can achieve this with absolutely no downgrade to the quality of work you get. Just because they aren't a few feet away from you doesn't mean they are any less capable or reliable. Assuming of course you hire them through the right outsourcing company. Like us for example! Now, you may have a physical office with someone at your front desk already. Having a virtual backup is still a great idea because it allows local professionals to focus on in-person needs. Like greeting visitors, tours, physical mailing, and general office management. Because while they're doing those things, they're missing phone calls and emails are stacking up. But not if you had backup handling those remote duties.
What They Do
The primary responsibilities start with answering calls. From there it's a matter of following whatever procedure or script you trained them on. They can take down messages and relay them to the appropriate person, or transfer them to someone if they're available. Scheduling is another task they can handle, by taking down appointments, cancellations, and changes as they come in. They can also process over-the-phone payments, answer general questions, and manage an email inbox throughout the day. But wait there's more! They can even do this for you 24/7! Because our virtual assistants are in the Philippines, their schedules can be as flexible as you need. So when the office is closed for the night you can have someone standing by for after-hours inquiries and support.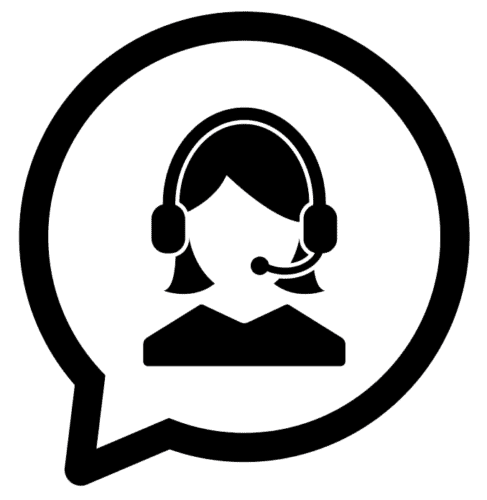 Common Positions
MyOutDesk has been providing virtual assistants to businesses of all industries and stages since 2008. That's 15 years of experience with over 7500 clients; and among them are many receptionists for a variety of business types. Here are some examples of different businesses and industries that have benefited from a receptionist.
Pricing
The average cost of a US-based virtual receptionist is $17/hour, which equates to a $2,720 per month salary. When you outsource for a role like this, our records have shown that you can save up to 70% off the total cost to hire a local professional. The savings are so high because that's taking into account other expenses you no longer have to worry about, like benefits, insurance, equipment, etc. When you hire a Virtual Assistant through MyOutDesk you only pay us a flat monthly fee; we pay the receptionist and handle their other expenses. You get a reliable, experienced, skilled receptionist and you get the savings.
You may be thinking that you could also outsource this responsibility to an answering service, but when you do that you lose a degree of brand awareness and loyalty. By having a dedicated resource you ensure their full attention and knowledge are focused on your business. They're the first person many of your clients and leads will speak to, so they must be able to represent you exactly as you wish to be represented. An answering service is juggling companies and reading off a script; your customers will see right through it. You simply cannot match the level of service, reliability, availability, and cost-effectiveness with any other receptionist method.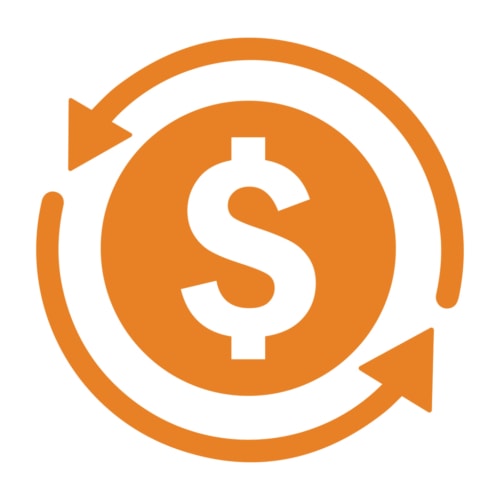 When To Hire
A Virtual Receptionist's tasks are very similar to an in-house team member. They'll answer the phone, log help desk tickets, take messages, answer customer questions and start customers along their sales funnel.
If you find yourself strapped for time as calls and email numbers spike, congratulations! That means your business is growing. But to capitalize on that growth, you'll need to stay on top of customer responses. This is the digital age, and everyone wants an immediate response. It's easiest to switch gears from the typical job posting and resume review. Instead, the best value is to find a person who can work virtually. To outsource receptionist tasks, you'll need to find a reputable company with a staff of receptionists that can work for you. It costs less than you'd pay for an in-house, full-time receptionist that would come into your office. The best part is that we've already done the vetting process for you. You don't need to deal with benefits, interviews, or worrying that you'll accidentally hire a dud that you'll need to fire within days.
We've done the work already to hire the best administrative virtual assistant for you, so you don't have to.
Training
When you finally decide to hire someone it's important to understand that they are the ones representing your brand. Since they're on the front lines of your business, customers will associate this receptionist with your brand. If your receptionist is rude or unknowledgeable, customers will blame your brand. This is true even if the receptionist isn't an official part of your full-time, in-house staff. That's why drilling your company values into your new administrative virtual assistant is crucial. What character traits guide each interaction with customers?
For instance, you might be a company that provides tech support to older consumers. With that in mind, your core values may be empathy and patience. These should govern every single reaction with customers. Once you've nailed down your values in order to train new employees with them, consider what training materials you'll need. If your processes are fairly simple and repetitive, the fastest way is to set up a virtual video conference. This will allow you to share screens and walk trainees through the process. Then, they can try it. After trying it a few times, they'll be able to ask questions and run into any snags while you're looking over their shoulder and can help them correct it.
Virtual Receptionist Checklist [free PDF]
How about some free content? We've compiled a handy checklist of everything you'll need if you're considering a virtual receptionist from anyone else. From equipment requirements to internet strength and home-office practices, this PDF checklist covers it all. Feel free to download for future reference, or share it at your discretion! Many of the things on this list you'll never need to worry about if you go through MyOutDesk, as we verify a lot of this stuff before hiring our virtual assistants. Not all virtual professional services offer such thorough assurances as this. We do because we can afford to while still passing on competitive rates that can't be beaten. Not to mention we believe your success is our success, so the less you have to worry about the more you can focus on dollar-productive tasks and growing your business. Use the link below to save this free Virtual Receptionist Checklist PDF.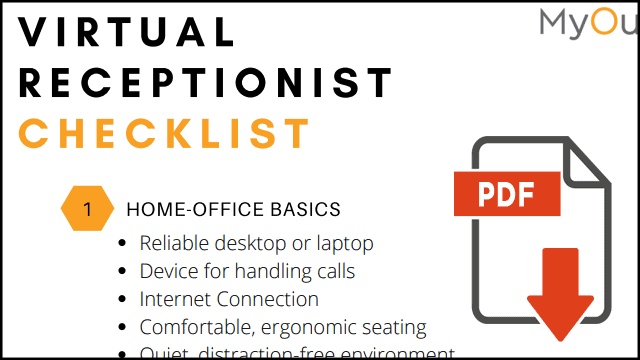 Picking The Right Professional
In short; a virtual receptionist saves you time and money and increases productivity. All while making your business appear even more professional to inbound inquiries. Answering services aren't personal or thorough enough, and in-house receptionists are expensive and less flexible. You can kill two birds with one stone when you go the virtual route. Remember, you want a professional, not just an assistant. That's what MyOutDesk specializes in, at competitive prices that no one else can match with the same quality of service. If you want to discuss this in more detail, or if you have any questions or concerns at all, use the link below. You can request a consultation with one of our experts who will be happy to hear you out and discuss whatever is necessary. Let us manage your communications so you can manage your growth.