In today's fast-paced digital world, consumers have more options than ever. Meaning first impressions can make or break a business. And when it comes to creating an exceptional first impression, a reliable and professional virtual receptionist can be the secret ingredient to success. Virtual receptionists have emerged as invaluable assets as businesses continue to embrace remote work and prioritize customer satisfaction. These virtual gatekeepers offer round-the-clock support and exude warmth, knowledge, and efficiency. Resulting in a seamless customer experience.
In this blog, we explore the top five virtual receptionist service providers that have set themselves apart in this competitive industry. From advanced call handling to appointment scheduling, these services go beyond merely answering calls, elevating businesses to new heights of productivity and professionalism. Join us as we dive into their features, benefits, and how they cater to the unique needs of businesses across various industries. Whether you're a scrappy start-up or an established enterprise, this comprehensive guide will help you find the perfect virtual receptionist service to amplify your company's communication and leave a lasting positive impression on every caller.
The Top 5 Virtual Receptionist Services
Having a virtual receptionist offers numerous benefits for a growing business. By outsourcing receptionist duties to a professional remote service, entrepreneurs can ensure a consistent and polished image for their company, as virtual receptionists efficiently handle calls, emails, and appointment scheduling with a personalized touch. The cost-effectiveness of this solution is evident, as it eliminates the need for physical office space and reduces staffing expenses. Moreover, virtual receptionists ensure round-the-clock availability, improving customer service and boosting client satisfaction. Above are the five most prominent providers of virtual receptionist services, and below is everything you need to know about them to decide which is best for your business.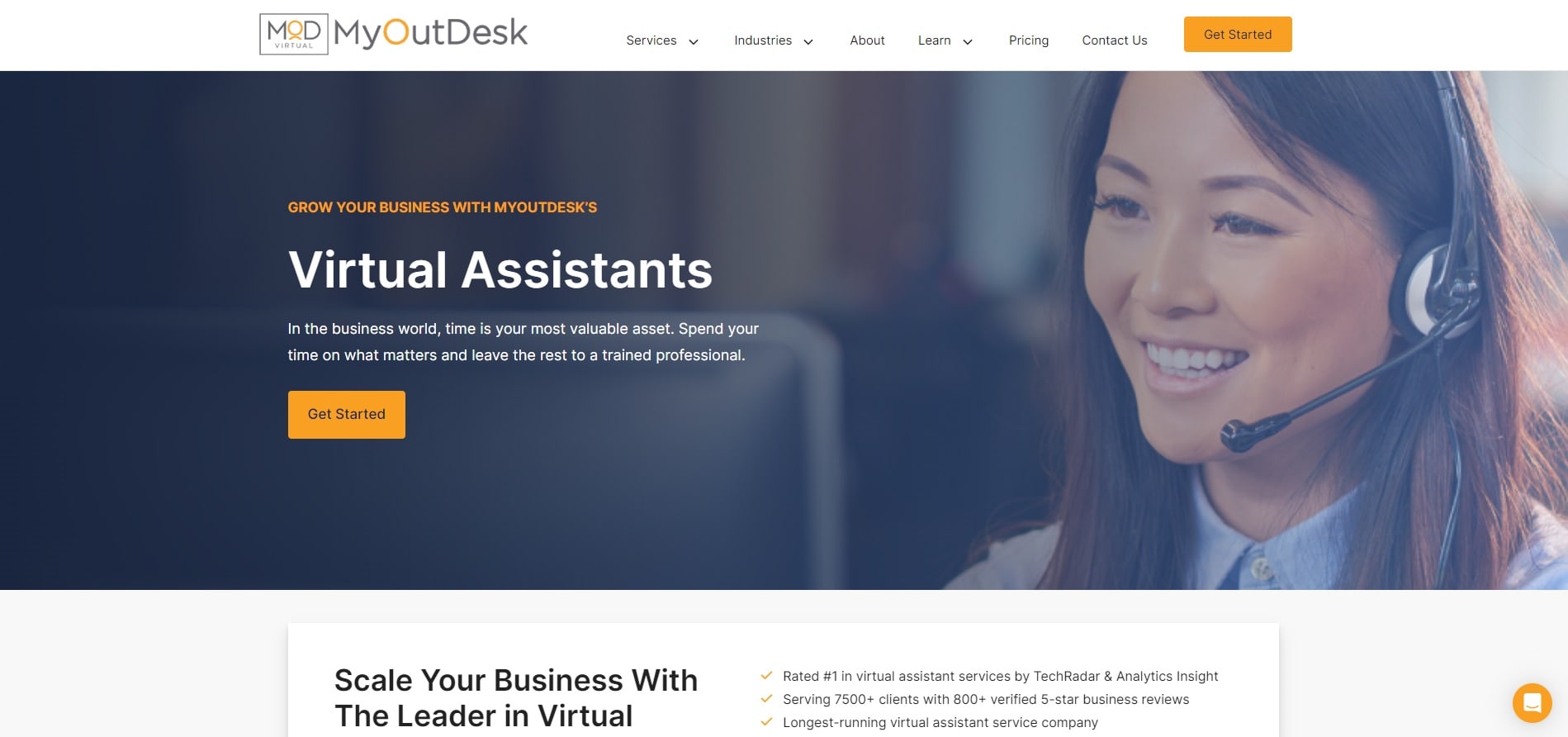 MyOutDesk has established itself as a leading provider of virtual assistants due to its long-standing expertise in serving numerous industries, and unmatched customer service. They have a proven track record of delivering highly skilled and reliable virtual assistants to businesses across various sectors, helping them streamline operations and buy back their time. Their rigorous recruitment process ensures that only the most qualified and experienced professionals are selected, guaranteeing clients access to top-notch talent that seamlessly integrates into their teams.
When it comes to virtual receptionist roles, MyOutDesk stands out as a top choice for several reasons. Firstly, they recognize the critical role a receptionist plays in shaping a business's image and customer experience. As such, they handpick virtual assistants with exceptional communication skills and a customer-centric approach, ensuring that each interaction leaves a positive impression on clients. Secondly, MyOutDesk provides extensive training and ongoing support to their virtual receptionists, equipping them with industry-specific knowledge and empowering them to handle various administrative tasks efficiently.
Furthermore, they also provide proprietary software to every client for managing their VA, allowing employers to monitor performance, location, timesheets, and more. Overall, MyOutDesk's dedication to quality, specialization in different fields, and tailored solutions make it a top choice for offices seeking reliable and skilled virtual receptionists to enhance operations and deliver an elevated customer experience.
Price: $500 per week, per virtual assistant
This all-in cost includes healthcare, PTO, and access to a consultant, placement specialist, and proprietary management software.
Advantages:
Specialization. MyOutDesk has a team of virtual assistants who specialize in real estate, which means they have a deep understanding of the unique needs and challenges of the industry. This level of specialization allows MyOutDesk's virtual assistants to hit the ground running and provide support tailored specifically to real estate professionals' needs.
MyTimeIn Software. As previously mentioned, MyOutDesk offers proprietary software for every client. With it, you can manage everything about your virtual assistant, such as their timesheet, task list, and even their location. No other provider has this level of organization and transparency.
Quality Control. MyOutDesk is committed to providing high-quality virtual assistant services, and they have rigorous standards in place to ensure that all of their virtual assistants meet those standards. MyOutDesk only hires virtual assistants who have previous experience in the industry and who have gone through a rigorous screening process.
Disadvantages:
No Local Virtual Assistants. only outsourced from professionals in the Philippines.
Full-Time Only.. only assistants dedicated to full-time roles.
Not the Cheapest Service. But also not the most expensive. Emphasis on balanced value with cost-effectiveness.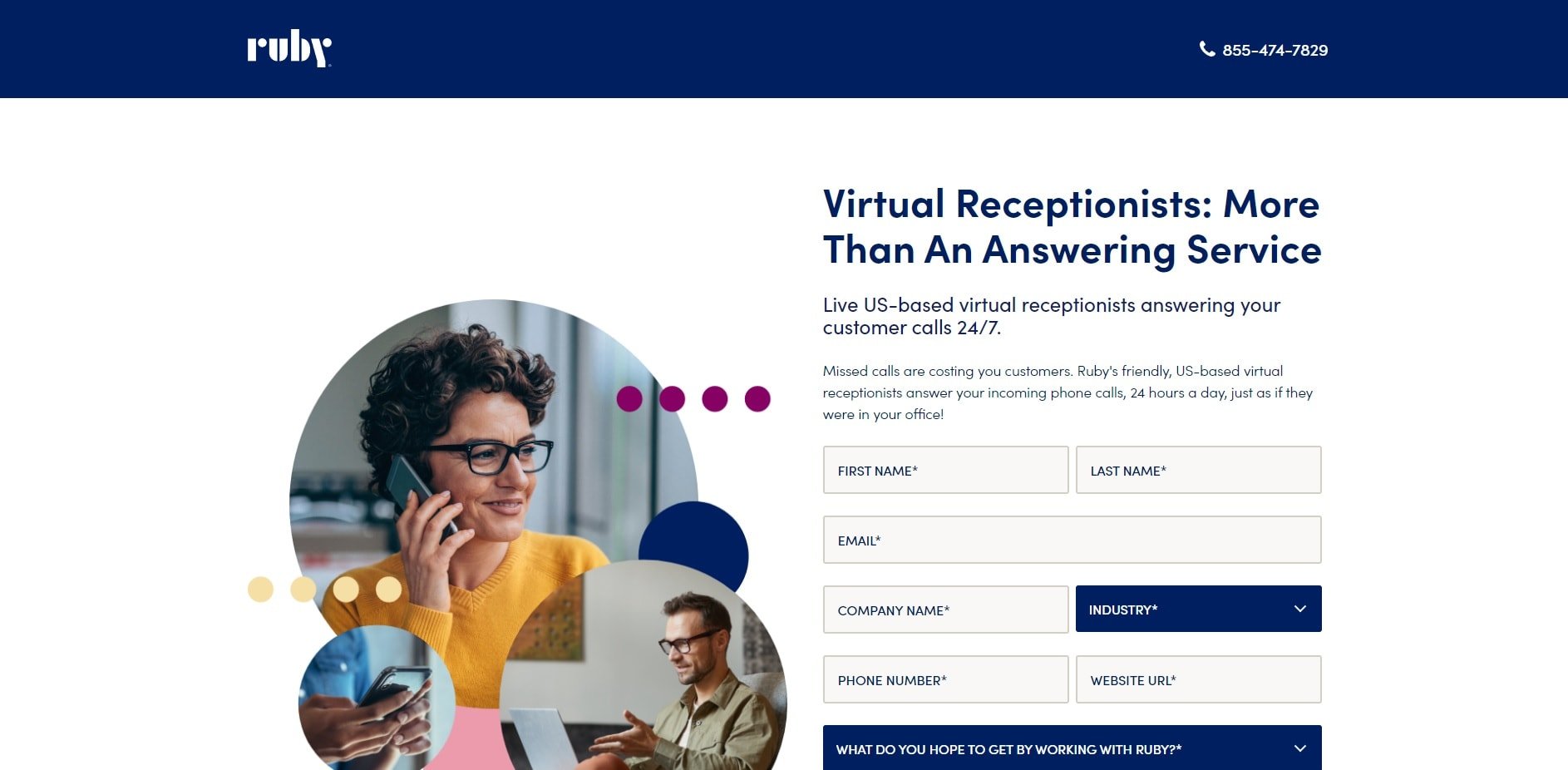 Ruby Receptionists offers top-tier virtual receptionist services, catering to businesses with personalized call handling. Their adept receptionists manage call screening, message-taking, appointment scheduling, and FAQs, seamlessly integrating into company operations. Emphasizing a human touch in an automated age, Ruby invests in understanding clients for an authentic caller experience. Their mobile app and online dashboard provide real-time updates and message access, empowering clients to manage communications. From startups to enterprises, Ruby Receptionists delivers exceptional virtual receptionist services, crafting a professional company image and leaving a lasting caller impression.
Price: $230 per month for 50 minutes
Advantages
Enhanced Customer Service: Ruby Receptionists provide friendly, professional call handling, ensuring every caller receives a positive and personalized experience. This leads to improved customer satisfaction and a positive brand image.
Increased Efficiency: By outsourcing receptionist duties to Ruby, businesses can focus on their core tasks without interruptions from managing phone calls. This improves overall productivity and allows employees to dedicate their time to more important and revenue-generating activities.
Cost Savings: Employing a virtual receptionist service like Ruby Receptionists eliminates the need for hiring and training in-house receptionists, resulting in cost savings associated with salaries, benefits, office space, and equipment. This makes it a cost-effective solution for businesses of all sizes.
Disadvantages
Lack of On-Site Support: As a virtual service, Ruby Receptionists cannot provide in-person assistance, which may be a drawback for businesses that require a physical presence for tasks like visitor management or receiving packages.
Limited Industry Knowledge: Ruby's virtual receptionists may lack specific expertise about the company's products or services, potentially leading to challenges when handling complex or industry-specific inquiries.
Communication Hurdles: There might be occasional language or communication barriers, especially for international calls or diverse clientele, which could impact the quality of customer interactions and lead to misunderstandings.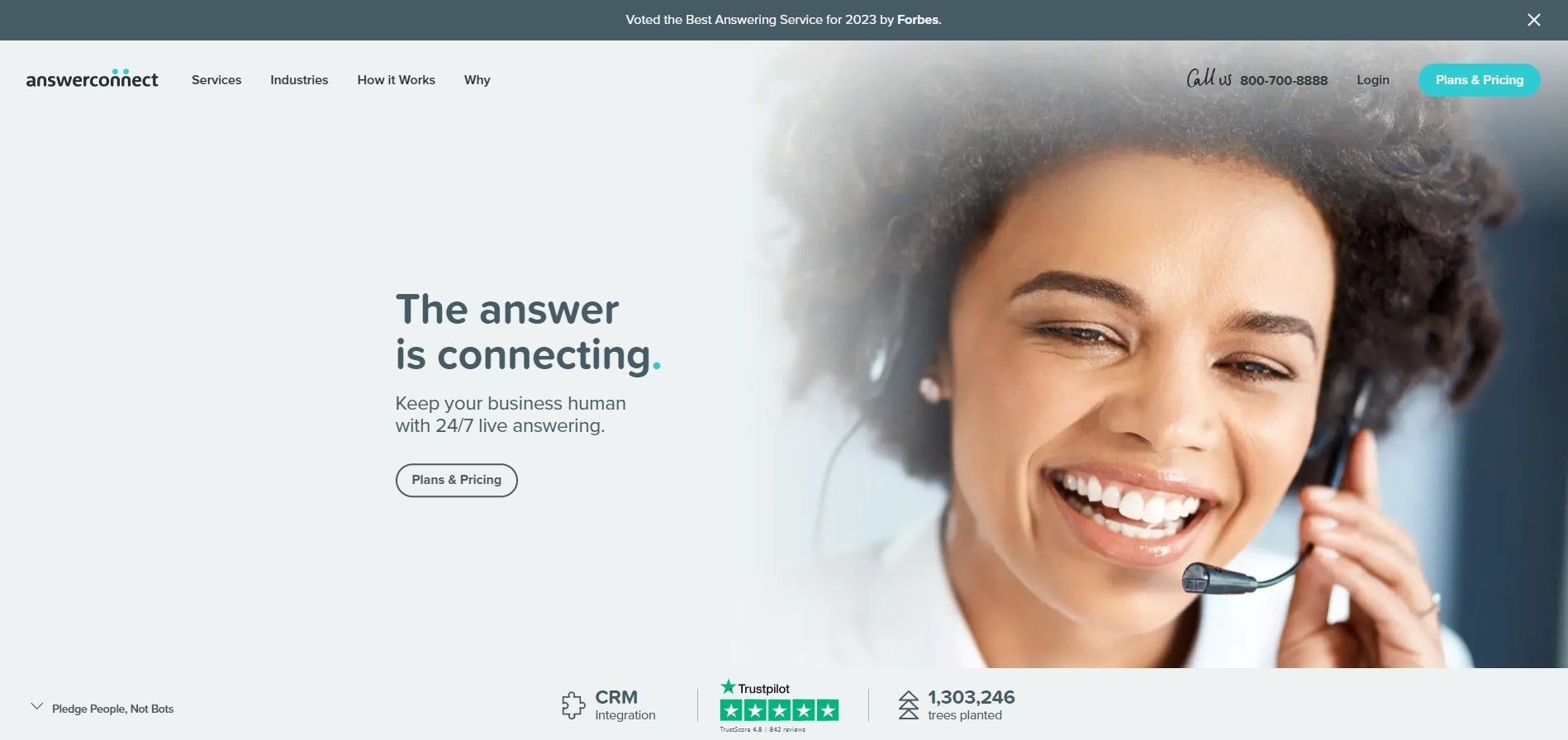 AnswerConnect offers 24/7 virtual receptionist services for businesses, handling calls, appointments, messages, and support. Their personalized approach enhances customer satisfaction and business image. Customizable subscription plans ensure cost-effective scalability. Distinguished by constant availability and tailored interactions, they adapt to diverse client needs. With a broad knowledge base, they excel in basic to complex tasks. Competitive pricing and flexibility make them an appealing alternative to in-house receptionists, enabling efficient resource allocation without compromising customer service quality.
Price: $325 per month for 200 minutes, + $49.99 setup fee
Advantages
Enhanced customer Support: AnswerConnect's 24/7 availability ensures customers can reach the business at any time, leading to improved customer satisfaction and loyalty.
Increased Productivity: By delegating call handling and administrative tasks to AnswerConnect, businesses can focus on core activities, leading to enhanced productivity and business growth.
Professional Image: AnswerConnect's well-trained virtual receptionists provide a professional and consistent customer experience, helping businesses maintain a positive brand image and reputation.
Disadvantages
Lack of Personalization: Virtual receptionists may not have the same level of familiarity with the business as an in-house receptionist, leading to a potential loss of personalized interactions with customers.
Language and Cultural Barriers: If AnswerConnect's virtual receptionists are located offshore, there might be language and cultural differences that could lead to miscommunication or misunderstandings with customers.
Limited Knowledge Base: Virtual receptionists may not have access to the same depth of information as in-house staff, which could result in incomplete or inaccurate responses to complex customer inquiries.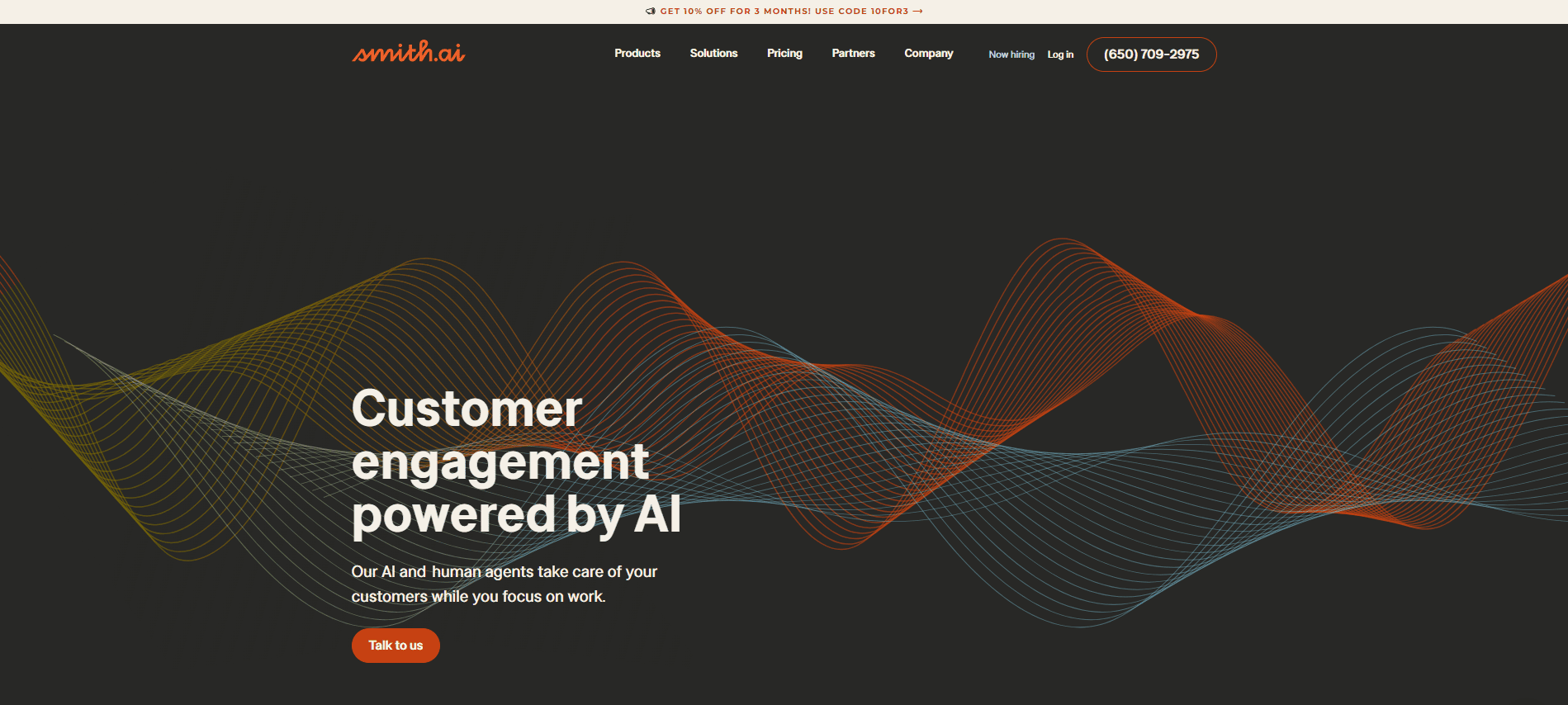 Smith.ai offers virtual receptionist services, excelling in live chat engagement with website visitors and efficient appointment management. Their personalized approach ensures professional assistance. Integration with CRM systems and AI-driven tools streamlines workflows, while a unique emphasis on live chat boosts lead conversion. Smith.ai's AI-driven solutions highlight innovation, providing cutting-edge technology for quality customer interactions. And their transparent pricing appeals to businesses looking for virtual receptionist services on a specific budget.
Price: $255 per month for 30 calls
Advantages
24/7 Availability: Smith.ai's virtual receptionists are available around the clock, providing businesses with continuous call coverage. This ensures that important calls are never missed, even during after-hours or peak times, leading to improved customer service and greater accessibility.
AI-Powered Efficiency: Smith.ai utilizes AI technology to streamline call-handling processes, reducing wait times and call transfers. Intelligent call-routing algorithms connect callers with the right staff or departments promptly, enhancing overall efficiency and saving valuable time for both clients and the company.
Bilingual Support: With bilingual virtual receptionists, Smith.ai caters to a diverse customer base, accommodating callers who prefer communication in different languages. This feature enables businesses to expand their reach and cater to international or multilingual clients more effectively.
Disadvantages
Limited In-Person Support: As a virtual receptionist service, Smith.ai cannot provide on-site assistance for tasks that require physical presence, such as greeting visitors or handling in-person inquiries, which some businesses may find necessary.
Industry-Specific Knowledge: Smith.ai's virtual receptionists may not possess specialized knowledge about certain industries, potentially leading to challenges when handling complex or technical inquiries that require specific expertise.
Communication Barriers: While Smith.ai offers bilingual support, there may still be occasional language or communication barriers, especially for highly technical or specialized terminology, which could impact the quality of customer interactions and lead to misunderstandings.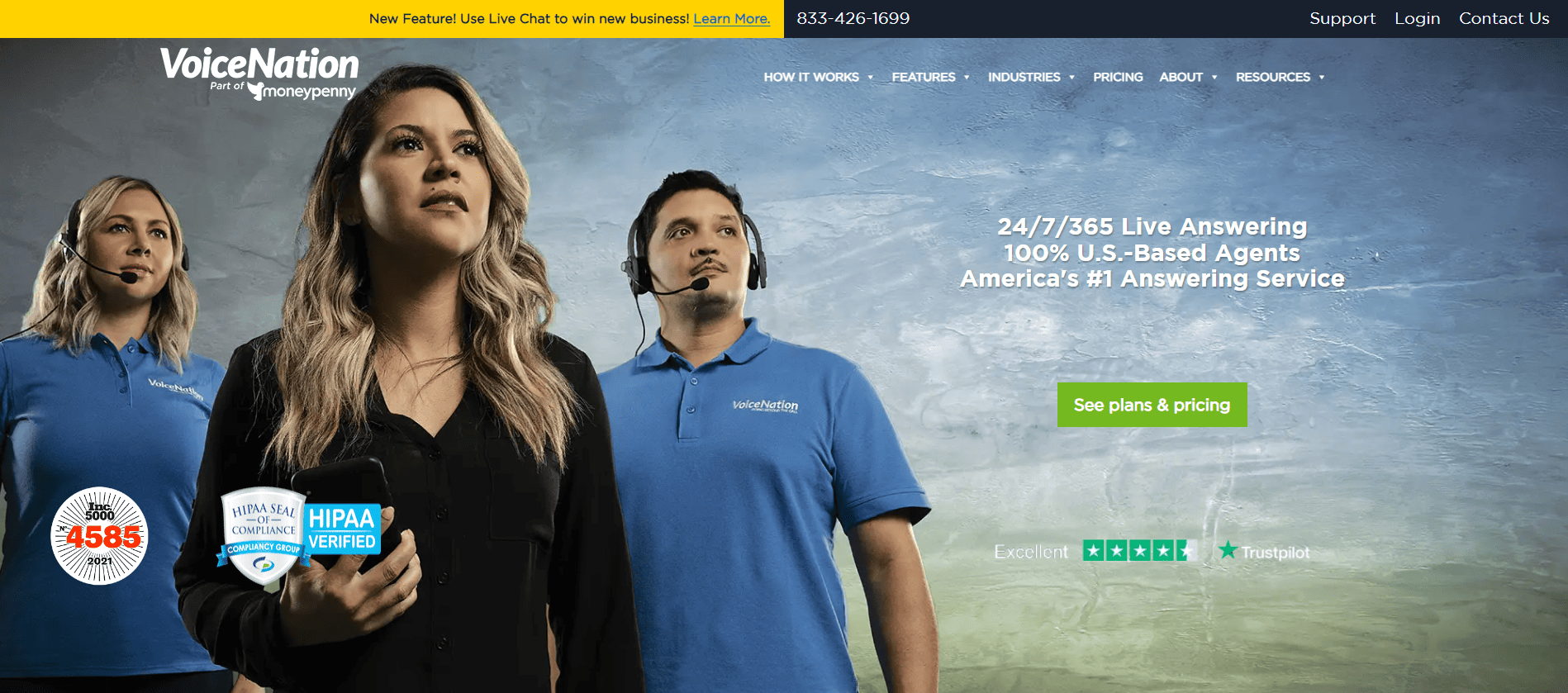 VoiceNation offers comprehensive 24/7 virtual receptionist services tailored to diverse industries. Live receptionists handle calls with professionalism and personalization, with services that include call answering, forwarding, message-taking, scheduling, and order processing. Customization options ensure seamless integration with clients' operations and branding. And advanced technology, such as intelligent call routing, enhances efficiency. VoiceNation's commitment to exceptional customer service and reliability has established its reputation as a strong choice for customer satisfaction.
Price: $30 per month membership + $1.79 per minute
Advantages
24/7 Availability: VoiceNation's live virtual receptionists are available round-the-clock, ensuring that businesses never miss important calls, even during after-hours or weekends. This continuous call coverage enhances customer service and accessibility, leading to increased satisfaction among clients.
Customization and Personalization: VoiceNation tailors its virtual receptionist services to each client's specific needs, allowing businesses to create a personalized call-handling experience. By understanding the unique requirements of each company, virtual receptionists can provide accurate and relevant information to callers, giving a professional and authentic representation of the business.
Advanced Technology Integration: VoiceNation leverages advanced call routing technology and seamless integration with various software and tools, making call management more efficient and streamlining workflows. These technological features enhance overall productivity and enable businesses to better manage their calls, messages, and appointments.
Disadvantages
Lack of In-Person Support: As a virtual receptionist service, VoiceNation cannot provide on-site assistance or handle in-person tasks, such as greeting visitors or managing physical documents, which some businesses may require.
Industry-Specific Knowledge: VoiceNation's virtual receptionists may not possess specialized knowledge about certain industries, potentially leading to challenges when handling complex or technical inquiries that require industry-specific expertise.
Communication Limitations: While VoiceNation offers professional service, there may still be occasional language or communication barriers, especially for international calls or diverse clientele, which could impact the quality of customer interactions and lead to misunderstandings.
Virtual Receptionist Companies Comparison Chart
Vendor
Price
Advantages
Disadvantages
MyOutDesk
All-in cost is $500 per week
· Specialization
· MyTimeIn
· Quality Control
· No local VAs
· Only full-time
· Mid-tier pricing
Ruby Receptionist
$230 per month for 50 minutes
· Customer service
· Efficiency
· Cost-savings
· No local support
· Limited Industry
· Communication
AnswerConnect
Price: $325 per month for 200 minutes, + $49.99 setup fee
· Customer support
· Productivity Boost
· Professional Image
· Lack of personalization
· Language barriers
· Limited Knowledge
Smith.ai
$255 per month for 30 calls
· Available 24/7
· AI Efficiency
· Bilingual Support
· Limited Support
· Industry Knowledge
· Communication
VoiceNation
$30 per month membership + $1.79 per minute
· Available 24/7
· Customizable
· Advanced Tech
· Lack of Support
· Industry Knowledge
· Communication
US vs. Philippines-Based Virtual Receptionists
When comparing US-based virtual assistants with those from the Philippines, distinct pros and cons emerge. US-based assistants offer advantages such as shared language and cultural familiarity, aiding communication and reducing misunderstandings. They often possess higher education and professional experience, beneficial for specialized businesses and roles. In contrast, Filipino virtual assistants offer cost-effective labor, while their strong work ethic and willingness to learn suit businesses needing continuous support. Increasing access to online courses has leveled their educational expertise, as well. The professional and personal similarities between the two workforces continue to grow and overlap, leaving only the distance and reduced labor cost as note-worthy differences.
Choosing The Right Virtual Receptionist Provider
From MyOutDesk's personalized touch and commitment to professionalism to Smith.ai's AI-powered efficiency and bilingual support, each provider brings a unique set of advantages to the table. As businesses strive to enhance customer service, increase productivity, and project a professional image, partnering with one of these reputable virtual receptionist service providers proves to be a game-changer.
Don't miss out on the opportunity to take your company's communications to the next level. Dive deeper into each provider's offerings, explore their packages, and discover which one best aligns with your specific needs. Empower your business with the ideal virtual receptionist partner, and experience the convenience and excellence they bring to your everyday operations. Embrace the future of call management and achieve enhanced customer satisfaction and business success.
Reach out for even more information about the different ways your business can leverage virtual assistants for receptionist roles and more. We offer free consultations with a knowledgeable expert on the subject, ready to answer any and all questions or concerns you may have. In the meantime, thanks for reading! We hope we've provided enough valuable information to aid in your decision-making. Good luck!
Frequently Asked Questions
A virtual receptionist handles various call-related tasks remotely. They answer incoming calls, greet callers professionally, and provide information or assistance based on predefined scripts or personalized instructions. Virtual receptionists can also take messages, schedule appointments, and forward urgent calls to the appropriate contacts. Their primary goal is to ensure seamless communication and leave a positive impression on callers while allowing businesses to focus on core tasks without needing an in-house receptionist.
The cost of a virtual receptionist service can vary based on the provider, the level of service, and the specific features needed. On average, monthly pricing for virtual receptionist services can range from $100 to $1,000 or more, depending on the number of calls handled, call duration, and additional services like appointment scheduling or call forwarding. Some providers offer tiered pricing plans or pay-as-you-go options, allowing businesses to choose the most suitable package for their needs and budget. It's essential to compare different providers and their pricing structures to find the best value for your specific requirements.