Key Takeaway
Outsourcing to the Philippines is a smart decision for most businesses because of its skilled, English-speaking workforce, favorable time zone, and cost-effective labor rates. This can improve business efficiency, productivity, and profitability. Successful outsourcing comes from selecting the right partner, establishing clear communication, and setting expectations early.
The Philippines is one of the top destinations major corporations outsource their business needs. Doing so allows businesses to keep overhead down on expenses such as office space, equipment, internet connection, taxes, and even benefits.

Even though this provides significant cost savings to business owners, it also greatly benefits a Philippines-based virtual assistant. They get to work from home, be closer to family, and remove 2-4 hours of daily commute all while taking in a great wage.

While several other countries are well-known for offering virtual services, such as Malaysia, South Africa, and India, it's the Philippines making headway in the outsourcing world.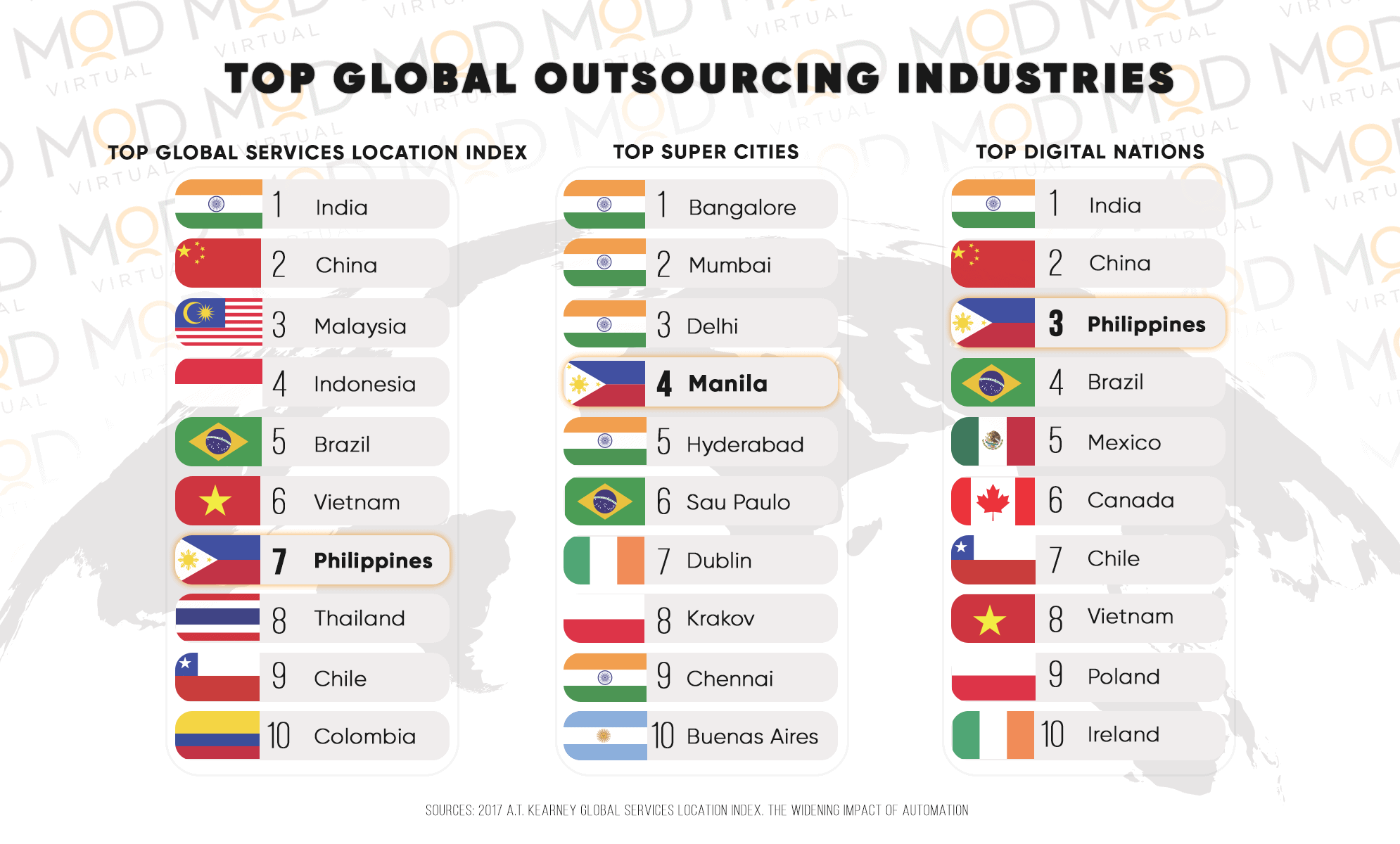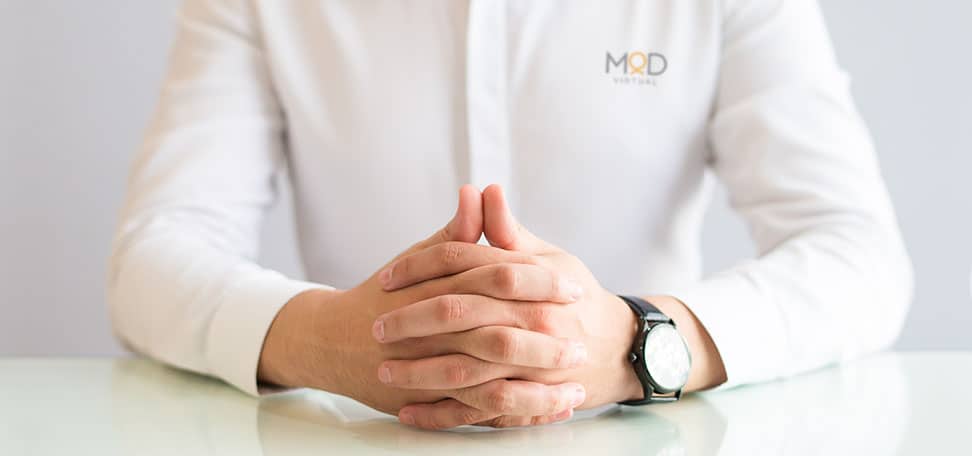 Why Should You Consider Outsourcing To The Philippines?
1. Strong Work Ethic
Filipino people are globally known to be loyal and hard-working. The deeply rooted spirit of being family-oriented is a great benefit as an employer. Professionals in the Philippines are experienced in a variety of industries and are often college educated as well. They're hungry for consistent work and fiercely loyal when given the opportunity to be a contributing member of any team.
2. English Proficiency
The Philippines boasts a 95% literacy rate wherein the medium of instruction is mainly in English. Many companies outsource jobs to the Philippines because the accents of Filipinos are primarily neutral. This means they can easily be understood by Western customers. Furthermore, the Philippines is currently ranked #22 out of 100 countries globally on the English Proficiency Index.
3. Education
According to the Philippine National Statistics Office, there are 42.5 million Filipinos in the labor force whose median age is 23 years old. The labor force participation rate is at 60.6%. The Philippines has also been recorded to have a high English proficiency rating of 60.59. They are #3 in Asia and #15 out of the top 80 countries. English is the medium of instruction in school and the official language of businesses.
4. Lowered Employment Costs
Hiring someone locally, even for an entry-level administrative position, can be more expensive than you expect. The costs start with posting ads and conducting interviews and continue to add up during onboarding, equipment assignment, and training. Then once they're hired, you're responsible for their salary, insurance, benefits, etc., in addition to the cost of providing office space, amenities, and more. When you come to a VA service like MyOutDesk, the only cost you have to budget for is one flat monthly rate. The VAs have their own reliable equipment, and we cover their salary, insurance, benefits, PTO, etc. You get the same experience and quality of employees, without the overhead costs required of someone local.
5. Reduced Liability
When hiring a virtual assistant, that can qualify as a deduction from the taxable income of 50% of labor expenses and consigned equipment. All legal risks are transferred to the outsourcing provider. As mentioned earlier, this provides significant cost savings as well.
One less employee at your office means less opportunity for workplace incidents, like physical accidents, interpersonal drama, and illness spreading. This benefit to liability also extends to their work performance; when your local employee makes a mistake it's on you entirely. If a VA makes a mistake (not likely!) we take responsibility and will work with you to resolve it accordingly.
6. Timezone Neutral Work
Virtual assistants tend to work from their own home office. Therefore, matching your work schedule and holidays is easily implemented. In fact, this creates more flexibility in their schedules and can be adjusted to your convenience – working their nights for your days, or their days for your nights, if necessary. Your outsourced professionals will be online and available when you need them, and they are accustomed to taking holidays on your schedule.

With a MyOutDesk VA, you can be covered for any shift you desire. For example, how about 24-hour customer service? With multiple VAs on different shifts, you could have a virtual IT help desk available to your customers around the clock.
7. Increased Productivity
Virtual assistant professionals can be great for business owners looking to boost productivity. By taking on time-consuming tasks such as administrative work, inbox management, lead nurturing, and more, virtual assistants can free up business owners to focus on more high-level tasks.

Additionally, they can provide support in areas where the business owner may not have the expertise, such as social media management or customer service. By delegating tasks to a virtual assistant, leaders can save time and energy, leading to increased productivity and growth for the business.
8. Cultural Compatibility
Since the Philippines was occupied by Spain for several hundred years and was liberated by America in the early 1900s. Filipino people are open to different cultures. They are primarily influenced by Western media and culture, thus making it easy for them to understand your culture.
9. High-Quality Infrastructure and Telecommunications
Compared to other popular outsourcing countries, the Philippines has more reliable infrastructure such as roads, power, water, and telecommunications. As a result, internet connectivity and capability are strong and more consistent. MyOutdesk has a minimum speed requirement for our virtual professional's Internet Service Providers (ISP) and requires a backup ISP and power source to ensure that there are contingencies in place in the event of any power or internet failures or interruptions.
10. Stable and Growing Economy
The Philippines is an emerging market in Asia. Despite the global uncertainties over the years, the Philippines has been able to foster economic growth steadily. As a result, the Growth Domestic Product of the Philippines has grown slowly and consistently, averaging at least 6.6 since 2012. With goals targeting more growth shortly, this makes the Philippines a secure outsourcing choice.
11. Accomplished in the BPO Industry
The Philippine government supports and welcomes offshoring and outsourcing businesses. The business process outsourcing industry (BPO), or offshoring, has been growing over 25% each year for the past 10 years. This industry is now the second-largest, by GDP contribution, in the country. Seeing that this is a great way to support their booming population, the government supports these business opportunities.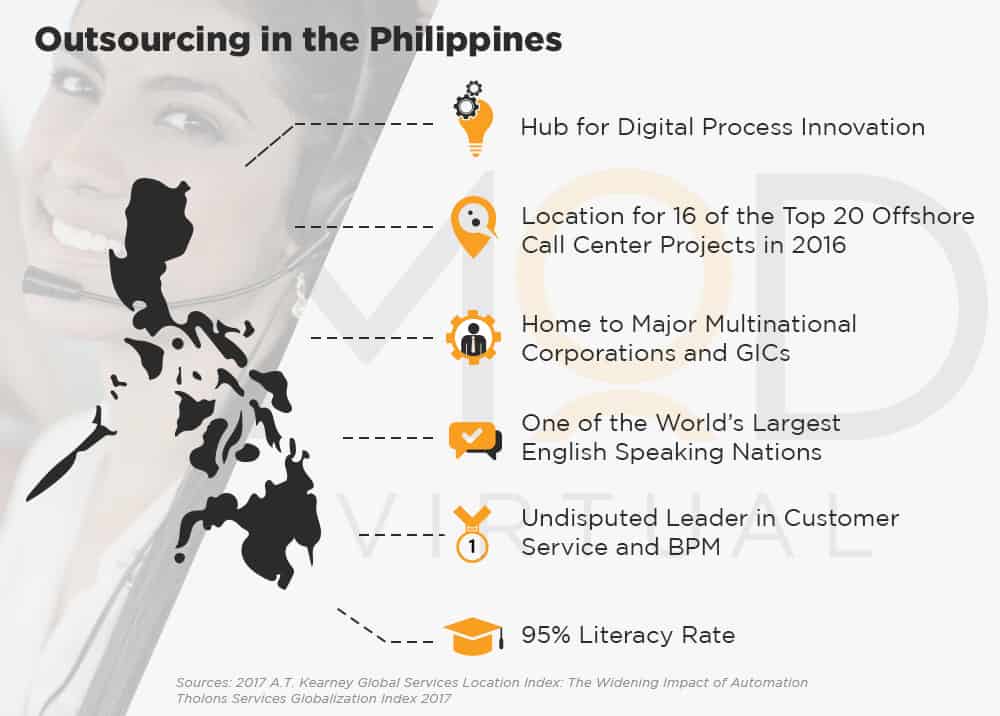 What Tasks Can You Outsource to the Philippines?
A virtual assistant, often referred to as a VA, is a career-oriented professional with proven industry and educational experience. They work remotely on any task that doesn't require an in-office presence. Specifically, the busy work that often piles up and pulls your team away from dollar-generating responsibilities. Not everyone has the time or resources to adequately manage tasks like data entry, customer service, lead follow-up, social media management, etc. That's where a cost-effective, remotely working virtual professional steps in to support businesses, especially during times of growth.

While it's certainly easier to just say "anything that can be done remotely", we've seen businesses leverage virtual assistants in several ways. Other than specific niche activities such as video editing for content creators, we see companies typically fill a few key positions with remote talent. Below are just a few examples of the most common roles a virtual assistant can fill.
Hiring a Virtual Assistant in the Philippines
Thinking of outsourcing your business needs to the Philippines? It's easier and faster than hiring an assistant yourself. LinkedIn reports that the average time to hire is 41 days, but at MyOutDesk we can have you onboarding your ideal candidate within one week. We utilize a free strategy consultation to understand your needs, before providing you with several experienced and proven professionals to choose from.  Once you've made your selection they can hit the ground running for you, as we always match by industry and job responsibilities. You'll only need to train your virtual assistant on things specific to your company. In other words, it's low risk, high reward.

Outsource your virtual assistant services today! Schedule your business strategy call and find out how a MyOutDesk virtual assistant from the Philippines can help grow your business! Remember, if you don't have an assistant, you are the assistant.