Key Takeaway
Virtual assistants are on the rise and can bring significant benefits to businesses, with 80% of companies surveyed reporting increased productivity and cost savings. The global virtual assistant market is expected to grow to over $16 billion by 2027, and industries like healthcare and finance are leading the way in adoption. Virtual assistants can also provide a flexible staffing solution that can help businesses scale while reducing overhead costs.
In the last few years, the workforce has shifted dramatically. The number of freelancers and gig workers has increased significantly as more jobs went remote or hybrid. In fact, Gartner found that during the COVID-19 pandemic, nearly 90% of employers encouraged or required remote work. At the same time, supply chain issues and rising inflation have reduced operating budgets. So what are businesses doing to save money while still meeting client demands? They're hiring virtual assistants. To get a better perspective, dive into nearly 30 virtual assistant statistics to inform how you'll scale your business in 2023.
Interesting Facts
Virtual assistant research shows that the need for outsourced workers is growing. Virtual assistant work-from-home jobs are becoming more attractive to companies that need skilled workers while still saving as much money as possible. With rising rates of highly educated remote workers, businesses have a lot to gain by utilizing virtual assistants.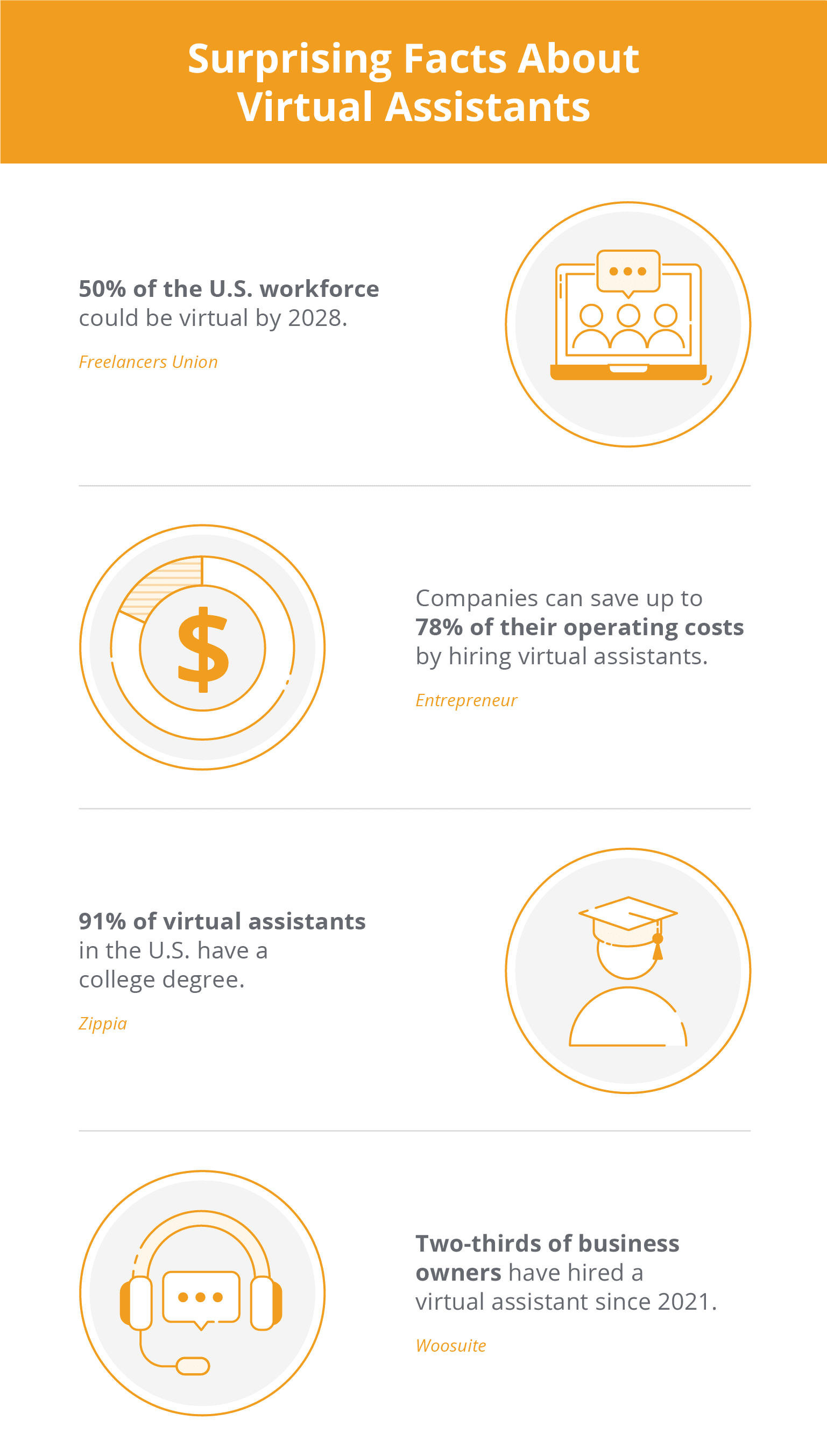 Virtual Assistant Statistics By Industry
Most industries would benefit from hiring virtual assistants. Some industries are currently seeing more attention than others, though there are signs that this is changing.
The largest percentage of virtual assistants work in the tech industry. (

Zippia

)

50% of the RealTrends™ Top 10 Real Estate Teams

(the most highly rated real estate professionals) have used virtual assistants they found through MyOutDesk. They've even used them as

Inside Sales Agents

.

The industries that most often outsource work are accounting (37%), IT (37%), and digital marketing (34%). (

Clutch

)
Most Common Tasks for Virtual Assistants
Call and email management
Bookkeeping and accounting
Source: U.S. Chamber of Commerce
Virtual Assistant Statistics By Profession
People working as virtual personal assistants come from a range of backgrounds. Usually, these jobs require great attention to detail, teamwork, and flexibility. All of these skills translate well to virtual assistance service, whether they work in sales or support.
Virtual Assistant Demographics
The majority of virtual assistants are women and a significant amount are Black or Hispanic, meaning that a more inclusive and diverse pool of talent is available to help your business.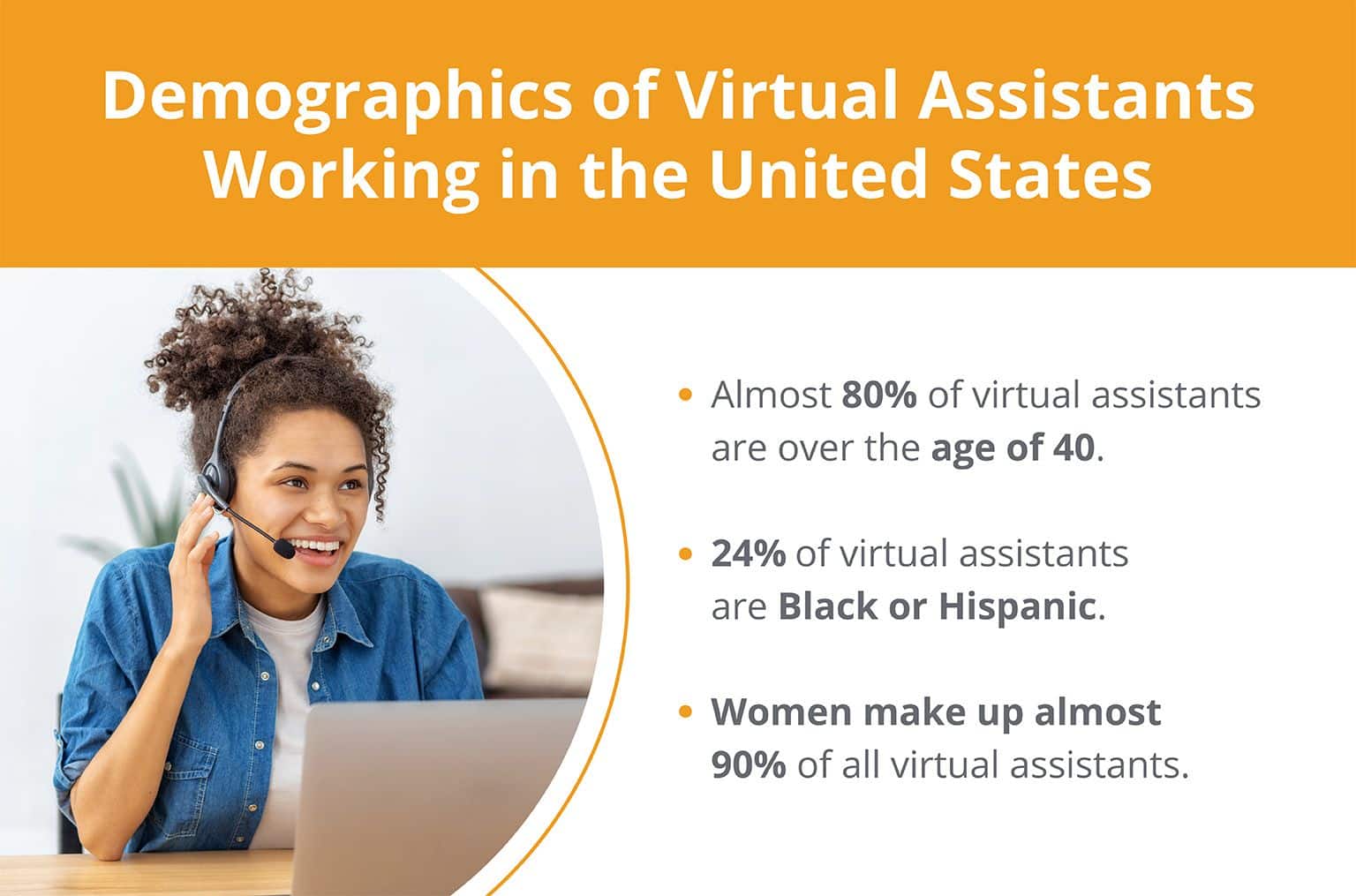 Women make up more than 87% of virtual assistants in the United States, but the number of male virtual assistants has increased by 44% since 2010. (

Zippia

)

Most American virtual assistants are over the age of 40. (

Zippia

)

70.8% of virtual assistants in the United States are white, while Hispanic and Black virtual assistants make up nearly 24%. (

Zippia

)
Virtual Assistant Salary Statistics
One of the biggest benefits of hiring a virtual assistant is that they can save your company money. Even in countries like the U.S. and the U.K. where virtual assistants demand higher pay than those working in developing nations like the Philippines, the savings in salary can be substantial compared to an employee with benefits.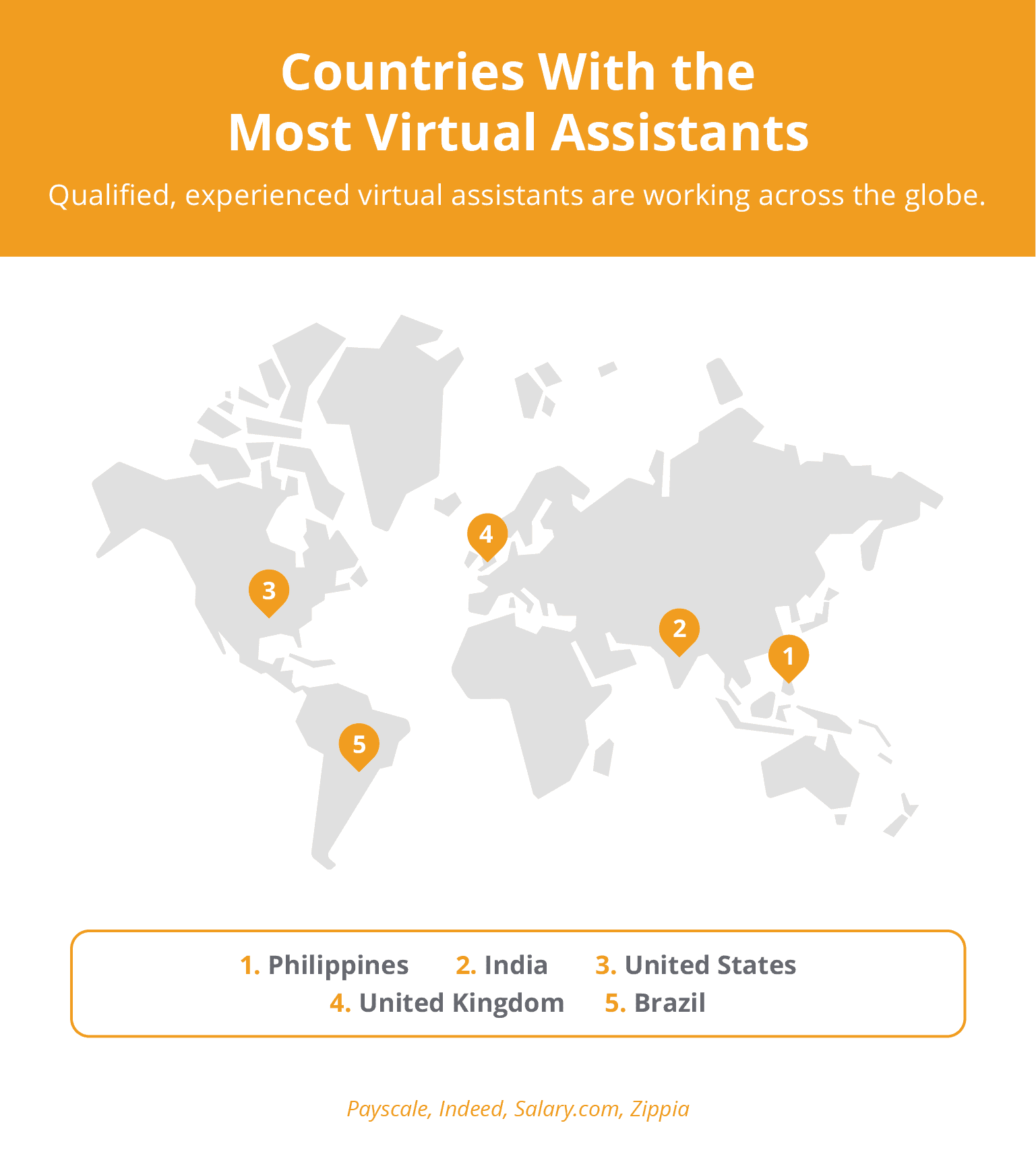 Benefits Of Hiring Virtual Assistants
Because a virtual assistant works from home, it can save your company money on overhead and payroll. Hiring them to complete a single project or as needed is another great benefit of a virtual assistant.
Hiring

full-time virtual assistants

could save an employer in the U.S. more than $11,000 per year. (

Global Workplace Analytics

)

A remote worker's output improves 4.4% vs. working in an office. (

Harvard Business Review

)

Over 50% of the work virtual assistants are contracted for was previously done by in-house employees. (

NanoGlobals

)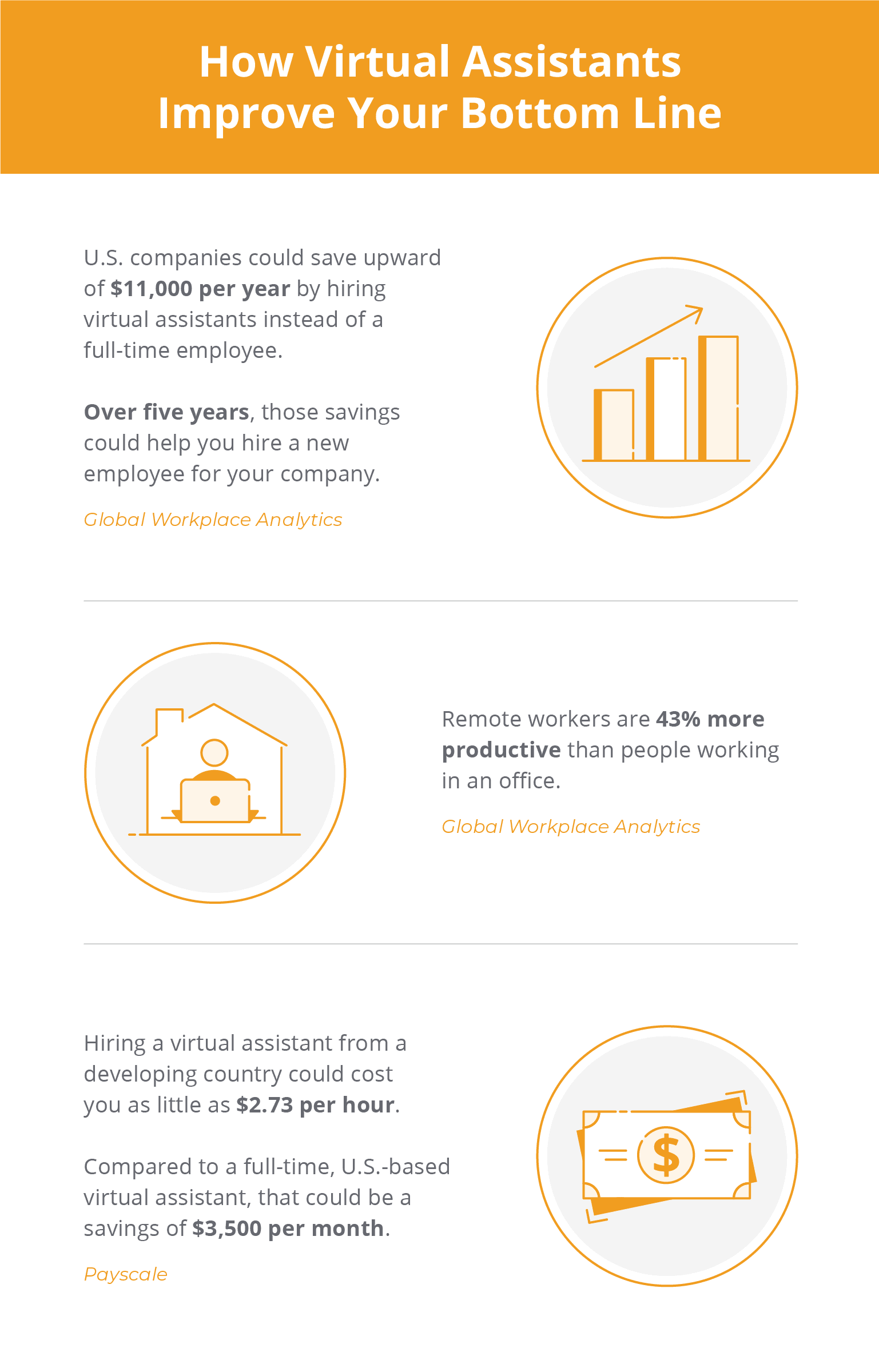 If your company is ready to save money while still being able to grow, hiring virtual assistants might be exactly what you need. Learn how much you can save and then sign up to find the right virtual assistant today.
Virtual Assistant Statistics FAQs
Have questions after reading our virtual assistant statistics? We have answers.
A virtual assistant
is a professional who can work remotely. They come from a wide variety of backgrounds and specializations, meaning that no matter how specific your needs are, there is going to be a virtual assistant who can assist you.
The pay for a virtual assistant ranges from $2.73 per hour to $20.48 per hour. The cost depends on where the virtual assistant lives, but even those who live in the U.S. or U.K. are still
less expensive than hiring a full-time employee
.
You have a couple options: You can put an ad out on a job board and search through dozens or hundreds of applications hoping to find the right person, or you can trust an agency like MyOutDesk to
match you with the right candidate
. An agency will vet each candidate to ensure that your new virtual assistant has the skills you need.
It's hard to know exactly how many companies use virtual assistants, but the number is growing all the time. Since the early 2000s, the number of unemployed virtual assistants has plummeted, showing that companies need the expertise they provide.