Remote work presents new opportunities for many businesses — from lowering overhead costs to hiring competitive, global talent. Not only can you save up to 70% on employment costs with virtual assistants, MyOutDesk also created the MyTimeIn portal to manage your team's overall productivity & performance.
Introducing MyTimeIn
All-in-One Remote Team Productivity Tracker
MyTimeIn is our in-house scheduling software that ensures your virtual assistants & remote workers are on-time and productive. This is your go-to MyOutDesk client portal is a place where you can manage all aspects of your MyOutDesk account, in ONE PLACE.
Remote Work Has Never Been Managed Easier
High-caliber providers of virtual assistants & remote work services should provide you with the tools you need to easily manage and track the productivity of your virtual assistant & remote employees.
Typically, when you hire a virtual assistant, you have to provide these kinds of productivity tracking systems yourself. MyOutDesk understands the importance of having these systems in place, so we created one for our clients.
Manage your virtual assistant's (or assistants') department, teams, service accounts, schedule & PTO, and payroll.
Real-Time Visibility – This feature allows you to have real-time visibility into your Virtual Assistant' productivity as they are working during their shift. You get real-time status updates, so you are never left in the dark as to what your Virtual Assistant is working on!
Billing and Invoicing – Through our client portal, you can also keep track of your billing and invoices. You can manage your information and view and print your invoices as well. You won't need to wait for anyone to send you your invoice or call anyone as all the information will be ready for you here.
Work History – On MyTimeIn, you will be able to access historical data on your Virtual Assistant's work hours.
Support – If you need any assistance with your Virtual Assistant, say, for example, you need help to train them on a particular system, or you want to change their schedule—whatever need arises, you can get support by merely logging in to our Client Portal.
Manage Email Preferences – You can set your preferences in receiving emails from us through here as well.
Scheduling & Timesheets – In-house scheduling software that ensures your Virtual Professional is on time and productive.
A more efficient team, anywhere
MyOutDesk's MyTimeIn software allows teams to stay accountable and track productivity effortlessly. Managers can access IPC- and GPDR-compliant productivity tracking software through MyOutDesk's Client Portal with MyTimeIn timesheets.
If you never had success with a past remote employee or past virtual assistant, it's probably because you weren't equipped to keep a distanced worker accountable.
MyOutDesk MyTimeIn: Team Productivity Software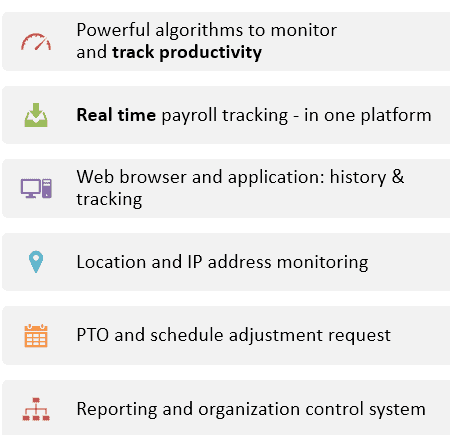 The Stats: Blended Teams Outperform Competitors
Stanford Studies have shown that remote workers show increased productivity by 16%. Those who work from home seem to be more focused with fewer distractions. They also found that employees working in open offices took 62% more sick days than virtual employees.
Deloitte's Millennial Survey 2017 found that remote work arrangements are "strongly linked to improved performance and employee retention." Furthermore, 38% of respondents reported they were likely to leave their current employer within the next two years, with many citing work/life balance and flexibility as major contributing factors.
Large companies are benefiting from using a blended employment model. In fact, a new regulation stemming from the Dodd-Frank Wall Street Reform and Consumer Protection Act has given us a clearer picture of the extent to which some of the largest U.S. companies employ global talent.
You might be surprised at the high percentages of global talent that successful companies have reported so far: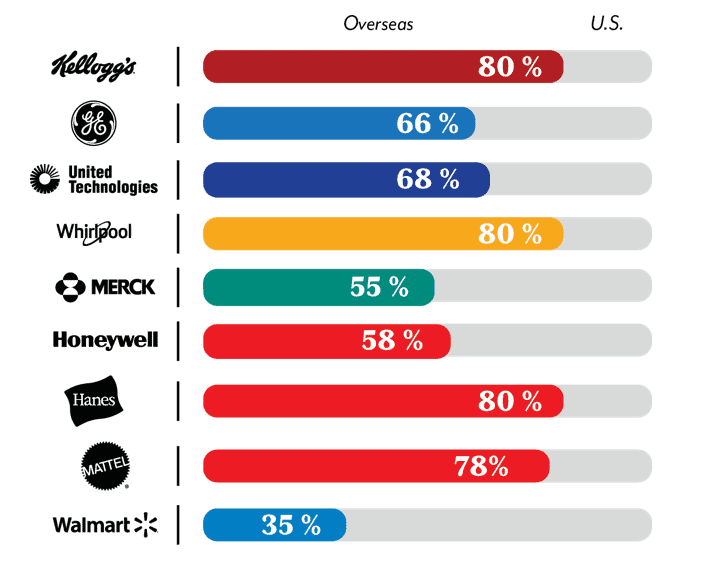 Kellogg: 80%
General Electric: 66%
United Technologies: 68%
Whirlpool: 80%
Merck: 55%
Honeywell: 58%
Hanes: 80%
Mattel: 78%
Wal-Mart: 35%
If these major companies employ this strategy, there is no reason that you cannot for your own business as well.