Zoom Rooms Kiosk Mode offers a safe way for office visitors to talk with receptionists. This article will list the best strategies and tactics to achieve and maintain success with this technology.
Highlights
This Zoom Room Kiosk Mode article links virtual receptionists and best practice strategies for using both modes to increase service, security, and efficiency.
Learn how Kiosk Mode technology can also improve security and save you money while allowing employees to work from home remotely.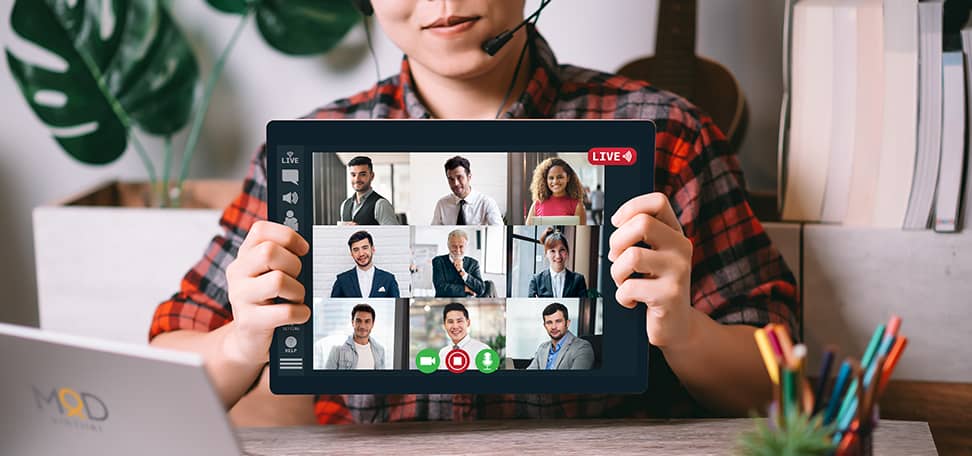 An Overview of Zoom Rooms Kiosk Mode
Kiosk Mode technology allows companies of all sizes to leave their reception desk unmanned while still providing valuable service to their office visitors.
"With Zoom Rooms Kiosk Mode, a virtual receptionist can greet you or your building guests safely using a Zoom Rooms for Touch device (iPad)."
Once a visitor enters your lobby, they can go to the touchscreen monitor with a camera and speaker. They tap a button to start a call with a receptionist on a new window. The visitor talks with the receptionist over Zoom. Afterward, the receptionist can enable the visitor to enter the office space, such as by remotely unlocking a door over their device.
Kiosk Mode provides the following benefits
Your receptionist can be in any office or at home with a mobile phone, tablet, or computer. As long as they have Zoom Rooms for Touch device (for example, an iPad), they can work as your virtual receptionist. You are not limited by the office space.
Security and peace of mind—the visitor cannot enter the office without talking with your receptionist first over a webcam device. If the person who enters is not supposed to be in the office space, your receptionist will stop them before they enter. All remotely through their desktop window.
No need for a dedicated physical reception desk—saving you money on furniture, hardware, and more.
>Improves office efficiency—by providing a virtual receptionist, employees can work from home or on-site in other offices.
Zoom Rooms Kiosk Mode Best Practice Strategies
There are many types of offices, and it is important to establish your best practice strategies for Zoom Rooms Kiosk Mode. Identify what you want your virtual receptionist to do during their shift.
Your strategy should be guided by the following question
What tasks will the Zoom Room virtual receptionist perform?
Your goal may be just to provide the company directory information or to answer basic questions from visitors about general office info. The role can also handle security-related issues like access control.
How should security be handled if a visitor enters the office building without talking with your virtual receptionist?
You can communicate to all employees the importance of talking with the Zoom Rooms virtual receptionist before allowing entry to any visitor. Or, you could have a plan in case the virtual receptionist is not available when the visitor needs to be screened. For example, having a list of employees who will help out in that situation.
Kiosk Mode can also improve security and save you money while allowing employees to work from home remotely.
Remote working can improve employee retention. You don't need to pay for overhead by keeping them on-site with your physical reception desk.
Offers an additional benefit if you provide telecommuting options. One of the best ways to find and retain good employees is by offering flexible work schedules. If you have multiple locations, this is an easy way to allow employees to work remotely at a different office. All by clicking open a new window.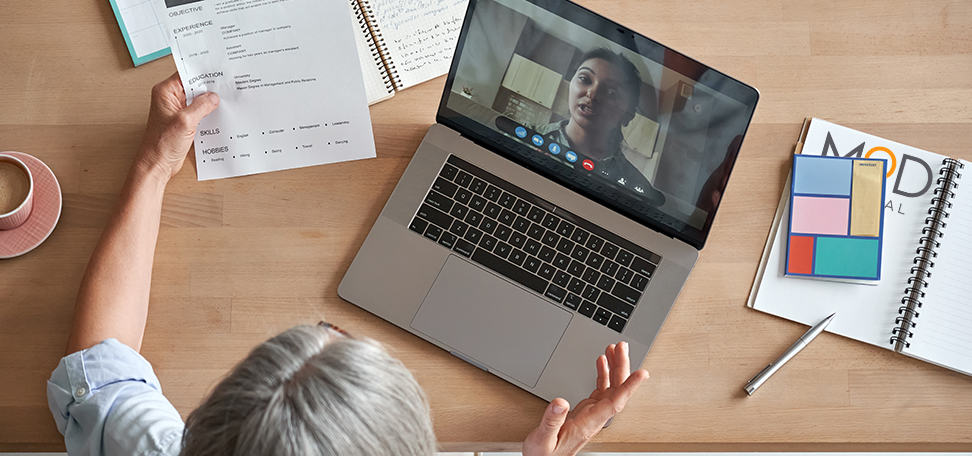 In order to achieve and maintain success with the best practice strategies outlined above, Zoom recommends the following:
Establish a communication plan for all employees.
This is critical. If you already have an employee portal, add documentation about the Kiosk Mode technologies for your employees. For example, tell them that they will need to use their own smartphone or tablet to chat with the virtual receptionist. Also, let them know that they will be listed as being in a meeting while on Zoom. This will prevent others from thinking they are ignoring them.
Provide training.
Even if your employees are familiar with using Zoom Rooms, they need to learn the best practices for providing security and welcoming visitors. Provide clear guidelines around how and when to interrupt meetings. Include how to properly set up their devices, or what to do if you are not at your desk. (Windows, PC, Mac, Android, iOS devices)
Regular communication.
Make sure that your virtual receptionist communicates status updates, such as if there is a security issue or equipment problem. You don't want your staff worrying about these things. Let them know when the time window that the virtual receptionist will be at their desk and when they will step out. (Such as going to lunch.) Check-in at the beginning of the day to see if there are any issues.
Review.
Make sure that you evaluate the performance of your virtual receptionist at least once a month, and adapt as needed. If you want to better define their role, you can add additional training or change the schedule. The goal is to always make it easier for employees to work from home. All the while, you save money in office space, devices, and equipment so that your business remains competitive.
Key Takeaways:
Deciding on a strategy is important, and should be guided by the specific needs of your organization. Know what you want your Kiosk Mode Receptionist to do during their shift.
Know how to approach virtual assistance as an HR issue—some employees may use the Kiosk Mode as an opportunity for telecommuting. This could be an untapped cost-saving opportunity for you, but it requires forward-thinking HR practices.
What tasks virtual assistants can do for you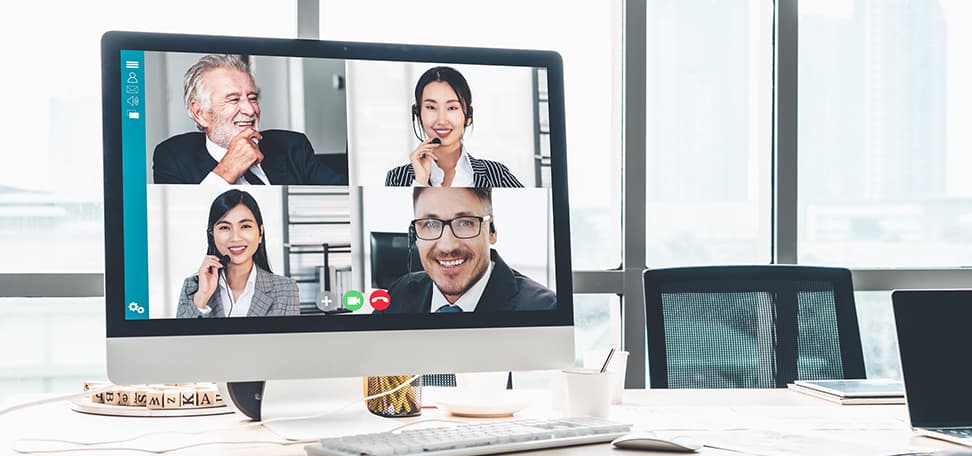 With a touch of a button. Virtual assistant services provide you with the flexibility, scalability, and cost-savings to adapt quickly to today's changing business & market conditions. Here are a million tasks and roles that virtual assistants can do for you.
General Administration
Having a virtual professional tackle administrative duties for you can go far beyond what a traditional assistant does. There are many more ways a virtual professional can help you administratively. Here are some concrete examples touching on what administrative virtual professionals do for our clients.
Virtual receptionist
Client care & relationship building
Screen calls & emails
Loan processing
Administrative support
Accounting & bookkeeping
Lead management
Lead reporting
Recruitment
Agile project management
Performance reporting
Customer support
Marketing
There are many things a virtual marketing virtual assistant can do for you to supercharge your company's scalability. Focus on your talented marketing professionals. If you know who buys from you and why a marketing virtual professional can really help drive your message out to the marketplace.
Online marketing, listings & social media
Virtual showings & open houses
Webinars & speaking events
Marketing automation
Brand work
Design coordination
Collateral development
Repurposing content

Audio, video & multimedia

PR & paid advertising
Prospecting Assistant
A sales prospecting assistant can take over your prospecting and expand your lead generation efforts. Our inside sales virtual assistants will help you generate more leads, qualify them and allow you to focus on selling and generating commissions. In addition to warm & cold calling, our virtual assistants can assist you with lead screening & pre-qualification, lead nurturing, prospect & client follow-up calls & more!
Telemarketing & inside sales
Smart plans
Appointments
Warm & cold calling
Prospect & client follow-up
Lead nurturing
Recruiting Assistant
MLS
Loan Processor
MyOutDesk loan processor virtual assistants can manage all the paperwork and deadlines involved in your mortgage & lending transactions. They touch every step of the process, from contract to close, and everything in between!
Gather documentation
Cloud e-agreements management
Lender follow-ups
Documentation review
Internal reporting
Manage mortgage or lending pipeline
Communications liaison
Transaction Coordinator
A Transaction Coordinator Virtual Assistant manages all the paperwork and deadlines involved in a contract transaction. They're trained in every step of the selling process and tasked with monitoring progress. From the time the seller accepts an offer through the steps involved in the close of escrow.
Become more effective by using a virtual professional transaction coordinator. They handle the repetitive tasks involved with closing a transaction. Such as gathering documentation & signatures, calling clients, completing paperwork, and following up on contract terms & requirements. Ultimately they create a complete file for the transaction.
Manage signatures & documentation
Manage paperwork processing & deadlines
Coordinate inspections
Respond to contract terms
Compliance coordination
Communications liaison
See also: Should I hire a Transaction Coordinator?
Service & Support
MyOutDesk virtual assistants provide the leverage you need to meet your customer service & support demand. All at a fraction of the cost of hiring full-time staff. Customer service outsourcing lets you work smarter, not harder, and helps you invest your time in dollar-productive activities that matter.
Manage trouble tickets
Manage escalation calls
Run reports
Manage calendars
Update CRM
Customer training & education
Issue resolution
. . . and the list goes on! Claim a free business strategy call to understand how to best leverage virtual talent. Take this window of opportunity. There are a million ways that virtual professionals at MyOutDesk will transform your business during a recession.
Outsourcing makes the hustle better — because you're not burdened with many/growing expenses that you'll need to figure out how to cover and hit profit.