We all know that businesses are thriving online in today's information age. So why aren't businesses proportionally blending their physical and remote practices?
Working from home is actually more productive than working from the office. According to studies from Stanford, it turns out work-from-home employees work a true full shift (or more) versus being late to the office or leaving early multiple times a week and found it less distracting and easier to concentrate at home.
The fact that the Internet and other modernizations have globalized our economy gives you a chance to scale your business faster and further than ever before, using a blended business model, as many big companies do.
What exactly is a Blended Business Model?
A blended business model is an engineered organizational chart where part of an organization works in-house and another part works virtually.
Symptoms when without a Blended Business Model:
Company revenue productivity is suffering because most of your time as the CEO is spent on non-revenue efforts.

Your growth curve is flat because you're stuck with administrative work.

You know you need support but do not want to go through the tedious process of hiring, only to have your hires leave after a period of time, thus putting you in a vicious cycle.

Your workload is starting to get overwhelming and the quality of your life is suffering.
Hiring Virtual Assistants solves a lot of problems and actually brings many benefits. For example, a full-time Virtual Assistant will cost you 25%-30% of the cost of an in-house employee. A Virtual Assistant will have their own equipment and software, and will not take up any precious office space, so overhead costs are cut down as well. Organizations like MyOutDesk cover HR concerns, benefits, and even things like paid time off; while all you do is pay your monthly subscription.
Still curious about MyOutDesk Virtual Assistants? Schedule your Go Remote Business Strategy Session now to learn more!
The Stats: Blended Teams Outperform Competitors
Stanford Studies have shown that remote workers show increased productivity by 16%. Those who work from home seem to be more focused with fewer distractions. They also found that employees working in open offices took 62% more sick days than virtual employees.
Deloitte's Millennial Survey 2017 found that remote work arrangements are "strongly linked to improved performance and employee retention." Furthermore, 38% of respondents reported they were likely to leave their current employer within the next two years, with many citing work/life balance and flexibility as major contributing factors.
Large companies are benefitting from using a blended employment model. In fact, a new regulation stemming from the Dodd-Frank Wall Street Reform and Consumer Protection Act has given us a clearer picture of the extent to which some of the largest U.S. companies employ global talent.
You might be surprised at the high percentages of global talent that successful companies have reported so far: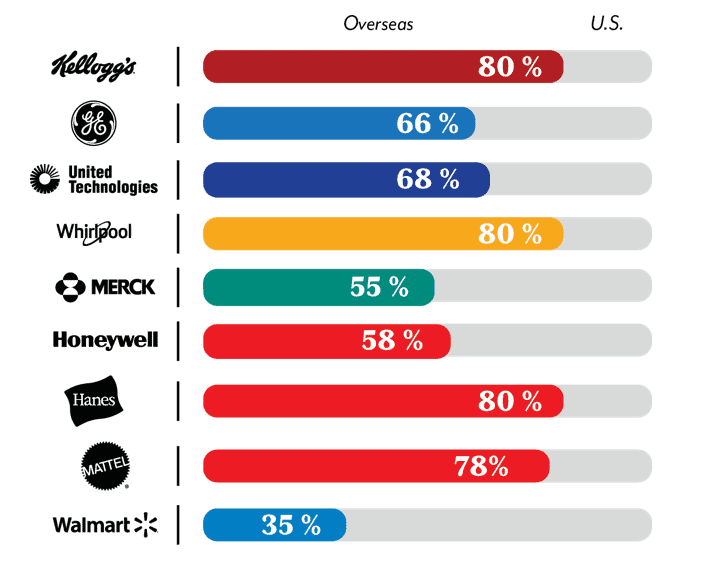 Kellogg: 80%

General Electric: 66%

United Technologies: 68%

Whirlpool: 80%

Merck: 55%

Honeywell: 58%

Hanes: 80%

Mattel: 78%

Wal-Mart: 35%
If these major companies employ this strategy, there is no reason that you cannot for your own business as well.
Implications of Outsourcing: Virtual Assistants + Traditional Employees = Growth
Employing a Virtual Assistant means that the company is making an investment in the entire team and looking to achieve the next level of excellence and performance. A Virtual Assistant is a full-time addition to the organization, but they will work with you virtually. They can shoulder specific daily responsibilities, help maintain smooth operations, and allow the physical team more freedom to focus on their work.
Imagine not needing to take every distracting phone call anymore, until a relevant call is forwarded to you!
We're helping to level the business playing field by helping small & medium-sized businesses offshore as the big companies have for years. It doesn't mean that jobs are going away, but it does mean that more work is available and more income is generated because entrepreneurs finally have the affordable help they need to close more transactions & generate more commissions.
Don't do this alone. Come out stronger with MyOutDesk.
Virtual Assistants & Blended Teams
When we founded MyOutDesk [mod_total_years] years ago, we realized that a virtual assistant living in the Philippines could do all of the clerical work online that an assistant could here in the USA for a fraction of the cost, and when we started helping small businesses to hire them we realized that it was a win-win proposition for everyone.
Virtual assistants have all the qualifications (and often more) than local labor but at 1/3 the cost — which means you can afford to hire better help for a lower price, and you can afford to employ MORE of that help to grow your business. They're high-quality labor, with a great education and an outstanding work ethic, and available for wages that similarly qualified Americans typically won't work for.
Blended teams are exciting because it finally means that entrepreneurs can employ a competitive advantage in their business formerly reserved only for top-tier manufacturing companies — like the folks who made your iPhone. Just like them, you're able to delegate repetitive, non-dollar productive tasks to a virtual assistant, which in turn helps you focus your time & energy on what actually makes you money.
The fact that the Internet and other modernizations have globalized our economy gives you a chance to scale your business faster and further than ever before, using Virtual Assistant services. Demand for virtual talent is increasing because it works for most business owners. Simply put: it is good for business.
To learn more comprehensively about the blended business model (as well as other awesome strategy guides) schedule your Go Remote Business Strategy Session today and find out how a MyOutDesk Virtual Assistant can support you to boost your business.