Tackle the Recession
MyOutDesk virtual assistant services provide you with the flexibility, scalability, and cost savings to adapt quickly to today's changing business & market conditions. Here is a list of all that a virtual assistant can do to uplift your business during a recession.
Keep calm and thrive on

. Realize that a market downturn is an amazing opportunity for you to gain market share as competing businesses are reducing their staffing & capacity. Don't freak out and cut your entire operational force ad hoc. Now is the

time to double down

on the projects and ideas that will

drive future growth and scale

.

Did You Know?

MyOutDesk's origin story is set during the last global financial crisis of 2008. Yes, that's right — our business started by scaling businesses with virtual assistants during a recession! Our first client in 2008 went from five to seventeen VPs with a completely revamped organizational model in short order, and he told MyOutDesk, "Our virtual professionals have shaved $250,000 off our monthly overhead."

Your Next 90 Days of Planning.

One of the keys to thriving during a recession is to focus your time on finding out opportunities to thrive and survive during this uncertain time. Spend the next 90 days of quiet time for deeper planning and preparation.
The recession will eventually pass, and so when we come out of this thing, you will be the winner. Here's a guide for thinking through all the things that you can do right now. Think through all the things missing or need updating in your business.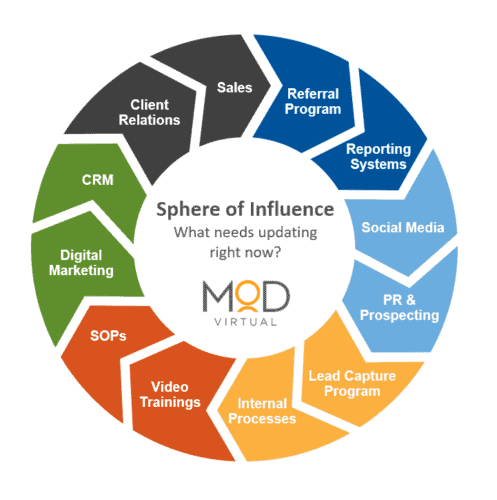 Do you have a leads reporting system? A client reporting system? Now is the time to develop your operations.
We completely understand how to harness your business potential in a recession like no other. MyOutDesk has over [mod_total_reviews] positive reviews & over [mod_total_clients] clients over the last [mod_total_years] years.
A Million Ways a Virtual Assistant Can Help DURING a Recession
General Administration
Having virtual professionals tackle operations and administrative outcomes for you can go far beyond what a traditional assistant does, like answering phones and keeping your calendar. There are many more ways a virtual professional can help you administratively. Here are some concrete examples of my favorite things administrative virtual professionals do for our clients.
Virtual receptionist

Client care & relationship building

Screen calls & emails




Loan processing

Administrative support

Accounting & bookkeeping

Lead management

Lead reporting

Recruitment

Agile project management

Performance reporting

Customer support
Marketing
There are many things a virtual marketing virtual assistant can do for you to supercharge your company's scalability. Focus your talented marketing professionals on the above sales tools and also on ideal client targets. If you know who buys from you and why your marketing virtual professional can really help drive your message out to the marketplace.
Online marketing, listings & social media

Virtual showings & open houses

Webinars & speaking events

Marketing automation

Brand work

Design coordination

Collateral development

Repurposing content

Audio, video & multimedia

PR & paid advertising
Prospecting Assistant
A sales prospecting assistant can take over your prospecting and expand your lead generation efforts. Our inside sales virtual assistants will help you generate more leads, qualify them and allow you to focus on selling and generating commissions. In addition to warm & cold calling, our virtual assistants can assist you with lead screening & pre-qualification, lead nurturing, prospect & client follow-up calls & more!
Telemarketing & inside sales

Smart plans

Appointments

Warm & cold calling

Prospect & client follow-up

Lead nurturing

Recruiting assistant

MLS



Loan Processor
MyOutDesk loan processor virtual assistants can manage all the paperwork and deadlines involved in your mortgage & lending transactions – including every step of the process, from contract to close, and everything in between!
Gather documentation

Cloud e-agreements management

Lender follow-ups

Documentation review

Internal reporting

Manage mortgage or lending pipeline

Communications liaison
Transaction Coordinator
A Transaction Coordinator Virtual Assistant manages all the paperwork and deadlines involved in a contract transaction. They're trained in every step of the selling process and tasked with monitoring progress from the time the seller accepts an offer through the steps involved in the close of escrow.
Become more effective by using a virtual professional transaction coordinator to handle the repetitive tasks involved with closing a transaction – such as gathering documentation & signatures, calling clients, completing paperwork, following up on contract terms & requirements, and ultimately creating a broker file for the completed transaction.
Manage signatures & documentation

Manage paperwork processing & deadlines

Coordinate inspections

Respond to contract terms

Compliance coordination

Communications liaison
Service & Support
MyOutDesk virtual assistants provide the leverage you need to meet your customer service & support demand at a fraction of the cost of hiring full-time staff. Customer service outsourcing lets you work smarter, not harder and helps you invest your time in dollar-productive activities that matter.
Manage trouble tickets

Manage escalation calls

Run reports

Manage calendars

Update CRM

Customer training & education

Issue resolution
… and the list goes on! With a business strategy in place that leverages virtual talent, there are a million ways that virtual professionals at MyOutDesk will transform your business during a recession.
The Future is a Remote Workforce
In today's high-tech economy, a remote workforce helps to maximize profits, grow clientele, improve business capacity, and often outperform competing companies that have fewer remote workers.
50% of the US workforce will be remote by 2020.

73% of teams will have remote staff in the 10 years.
MyOutDesk has served over [mod_total_clients] SMBs in health care, real estate, finance, and more. We have taken the lessons learned from over a decade of experience with virtual assistant services to help our clients eliminate the pitfalls of outsourcing. This hands-on experience has helped us to develop a better system of checks and balances to ensure we are delivering the highest quality of service possible.
With recent government directives, you can keep your workforce and go remote now. We're offering, for free, [DOWNLOAD] Shelter In Place: A Guide to Working Remotely.
Increase your touchpoints to the most influential clients

Double down on branding and marketing

—

differentiate yourself

Focus on adding value to your suppliers and vendors

Double down on your prospecting and outreach programs

Keep key talent and stay connected to your people

Manage cash and cut out but (but don't cut muscle)

Set up clients & employees to be fully remote
Envisioning a New Reality for Your Business
Simply put, MyOutDesk equips entrepreneurs with tools, strategies, and virtual employees – and when combined, businesses have a competitive edge and find growth while efficient systems and processes are put in place.
See what we are about, and schedule a free consultation with us. We'll take the time to learn more about your business and offer solutions to find top talent and lower your operational costs.
MyOutDesk proudly provides free business growth business guides, books, and strategy calls. We'll take the time to learn more about your business and offer solutions to foster top talent and lower operational costs for your company.