In the wide world of digital freelancing, Fiverr has long stood as a go-to marketplace for talent and services. But the professional world has scores of untapped potential; many diverse platforms offering unique opportunities and features await as worthy Fiverr alternatives. Through our due diligence and research, we've uncovered the 9 best platforms that stand worthy as reputable Fiverr competitors.
From specialized skill sets to broader freelance marketplaces, these platforms not only promise to connect clients with great freelancers but also to enhance the hiring experience with their distinct features and pricing models. So whether you have a one-time project or an ongoing outsourcing need, this article should give you enough information to make the right decision for your business.
What is Fiverr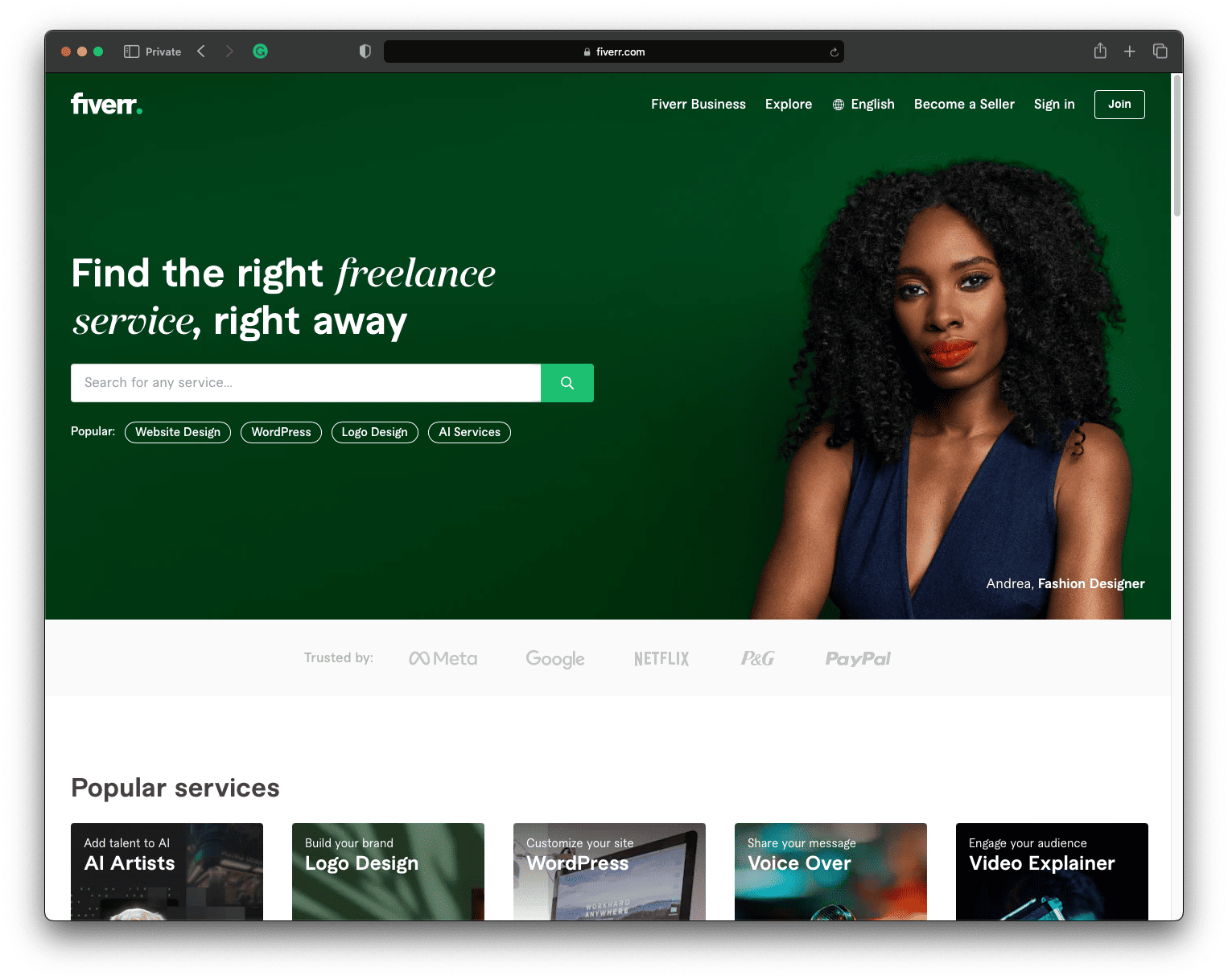 Fiverr is an online marketplace that connects freelancers and professionals with clients seeking various services, from graphic design and content writing to video editing, marketing campaigns, and more. Launched in 2010, the platform initially offered services at a fixed price of $5, though it has since evolved to encompass a wide range of prices depending on the complexity and demands of the project. Fiverr's straightforward setup allows freelancers, often referred to as "sellers", to create "gigs" that detail the services they offer, while "buyers" can browse these gigs and commission the ones that fit their needs.
Despite its popularity and ease of use, some individuals seek alternatives to Fiverr for various reasons. Common criticisms include high commission fees taken by the platform from freelancers' earnings, potential inconsistencies in service quality, and concerns over market saturation making it difficult for new sellers to stand out. Additionally, some users desire more niche platforms tailored specifically to their industry or more flexible pricing structures. A few features of Fiverr include a built-in messaging system for communication between buyers and sellers, a review and rating system to assess the quality of services rendered, and multiple levels of seller status, which can affect visibility and credibility on the platform.
The 9 Best Fiverr Alternatives For Hiring Virtual Professionals
Diversifying your options beyond the well-trodden path of Fiverr can open up a realm of possibilities when sourcing freelance talent. In this blog, we'll dive into 9 noteworthy alternatives that might just be the perfect fit for your next project or freelance endeavor. Let's go!
1. MyOutDesk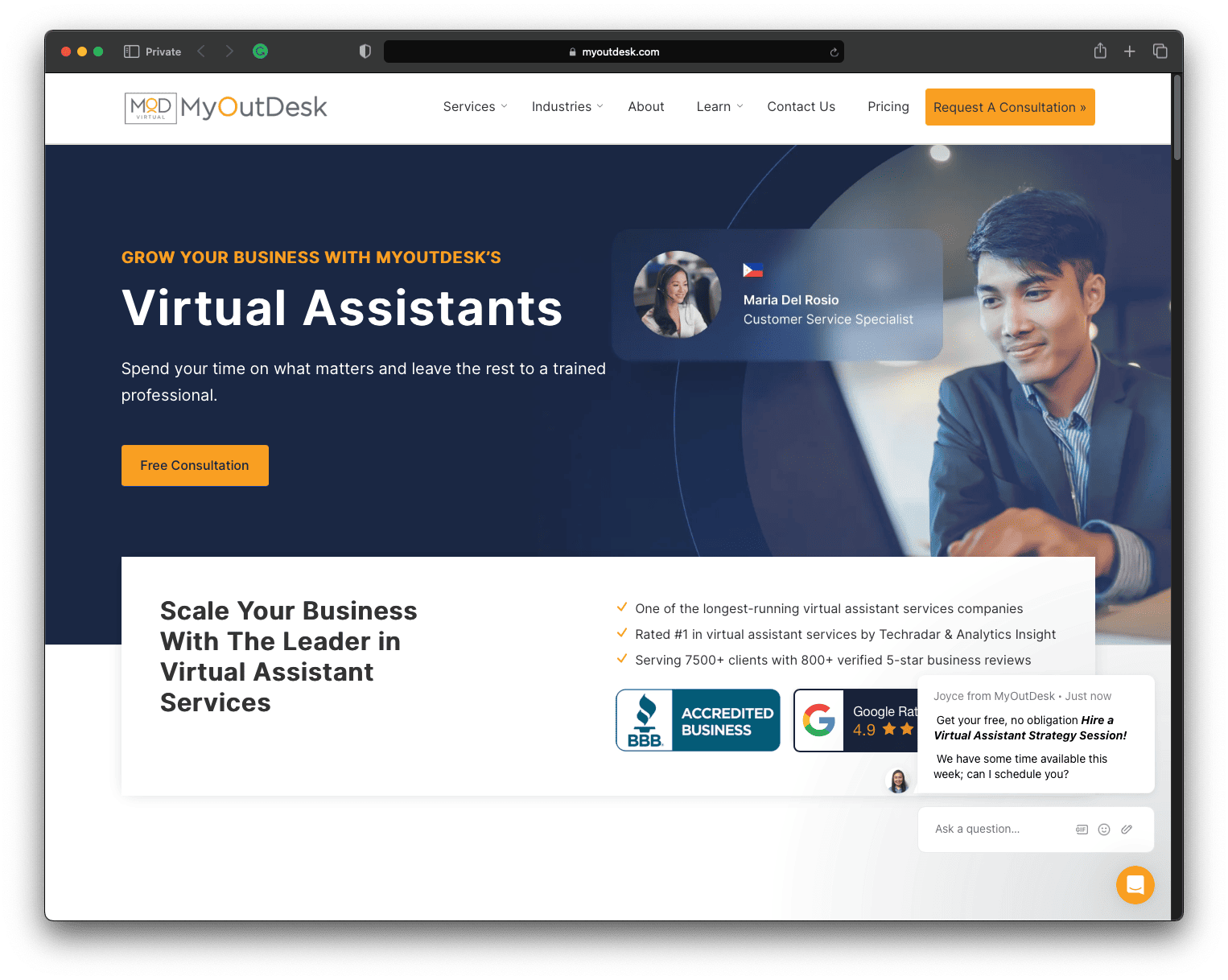 MyOutDesk is a premium virtual assistant services provider, focusing primarily on offering high-quality virtual assistants for industries such as real estate, healthcare, finance, and customer support, among others. Unlike many other platforms, MyOutDesk is known for its rigorous vetting process, ensuring that every virtual assistant provided has met stringent criteria regarding experience, skills, and professionalism.
Furthermore, they also offer training and onboarding for their virtual assistants, ensuring that they are not only qualified but also well-prepared to tackle the specific requirements and challenges of their assigned roles. This commitment to quality helps businesses find reliable, long-term virtual staffing solutions tailored to their specific needs.
Compared to Fiverr, MyOutDesk operates with a different ethos. Fiverr is a vast marketplace where freelancers from around the world offer a diverse array of services spanning from graphic design to content writing, and from software development to voiceover work. Its model is much more about one-off gigs or short-term projects, rather than long-term staffing solutions. While Fiverr does not have a centralized vetting process, the platform relies heavily on user reviews and ratings to help buyers gauge the quality and reliability of service providers.
While Fiverr allows for a broader variety of skills and services to be accessed quickly and often at a lower price, MyOutDesk focuses on delivering a select range of services but at a consistently high standard. This distinction makes MyOutDesk more suitable for businesses looking for consistent, long-term virtual staffing solutions, while Fiverr caters to those in need of varied and often project-based tasks.
Pricing: $1988 per month for a full-time virtual assistant
Pros
Rigorous Vetting Process: MyOutDesk ensures that every virtual assistant meets stringent criteria, providing businesses with highly skilled and professional individuals.
Specialized Training and Onboarding: Beyond just hiring skilled individuals, MyOutDesk prepares them further for specific roles, ensuring a smooth integration into the client's workflow.
Tailored Long-Term Staffing Solutions: Instead of project-based tasks, MyOutDesk emphasizes long-term virtual staffing, ensuring consistency and reliability for businesses.
Cons
Higher Costs: Given the emphasis on high-quality staffing and training, MyOutDesk can be more expensive than platforms offering short-term gigs.
Limited Variety of Services: While they offer specialized services in specific sectors, they might not cater to a vast array of niche requirements like broader marketplaces do.
Less Flexibility for Short-Term Needs: Businesses looking for one-off tasks or short-term projects might find MyOutDesk less accommodating compared to platforms designed for gig-based work.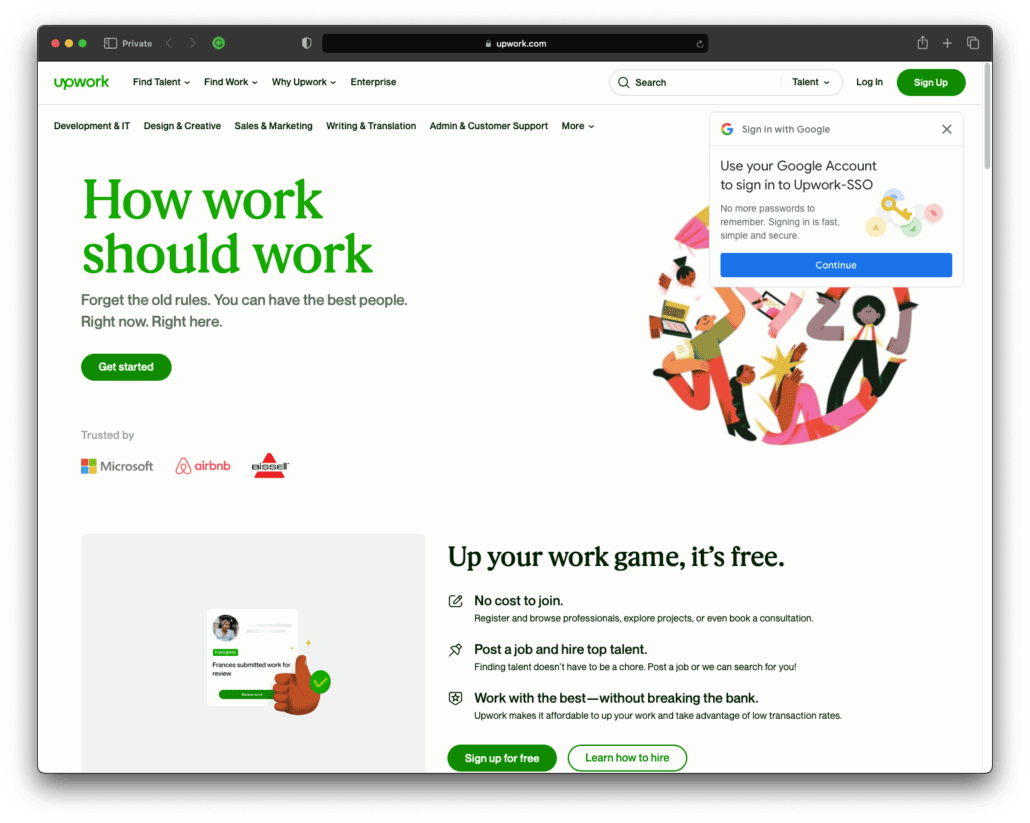 Upwork is a leading platform that connects businesses with freelancers and professionals across a wide range of fields. It offers services spanning from content creation, software development, design, and much more. Upwork's structure allows clients to either post jobs and receive bids or to directly search for and approach freelancers based on their skills and reviews.
In comparison to Fiverr, where services are offered as fixed-price "gigs," Upwork typically operates with a bid system where freelancers propose their rates for a given project, offering a more flexible and often in-depth collaboration between the client and freelancer. While both platforms provide access to a diverse pool of talent, Upwork's bidding system and extensive job descriptions tend to favor more comprehensive projects, whereas Fiverr's gig-centric model can be ideal for quick, clearly defined tasks.
Price: Individual freelancer rates vary, but Upwork has a 5% service fee for each payment processed.
Pros
Wide Range of Professionals: Upwork offers access to a diverse pool of freelancers spanning various fields, making it easy for businesses to find the right fit for their projects.
Flexible Bidding System: Clients have the flexibility to choose from a range of proposals, allowing them to select based on budget, expertise, and freelancer's history.
In-Depth Collaboration: The platform's structure encourages comprehensive project descriptions and direct communication, promoting clarity and better project outcomes.
Cons
Potentially Overwhelming Choices: The vast number of proposals for popular projects can be overwhelming for clients to sift through.
Service Fees: Both freelancers and clients incur fees, which can add to the overall cost of a project.
Varied Quality: While there are many high-quality professionals on the platform, due to its open nature, the quality of freelancers can vary, requiring clients to do thorough vetting.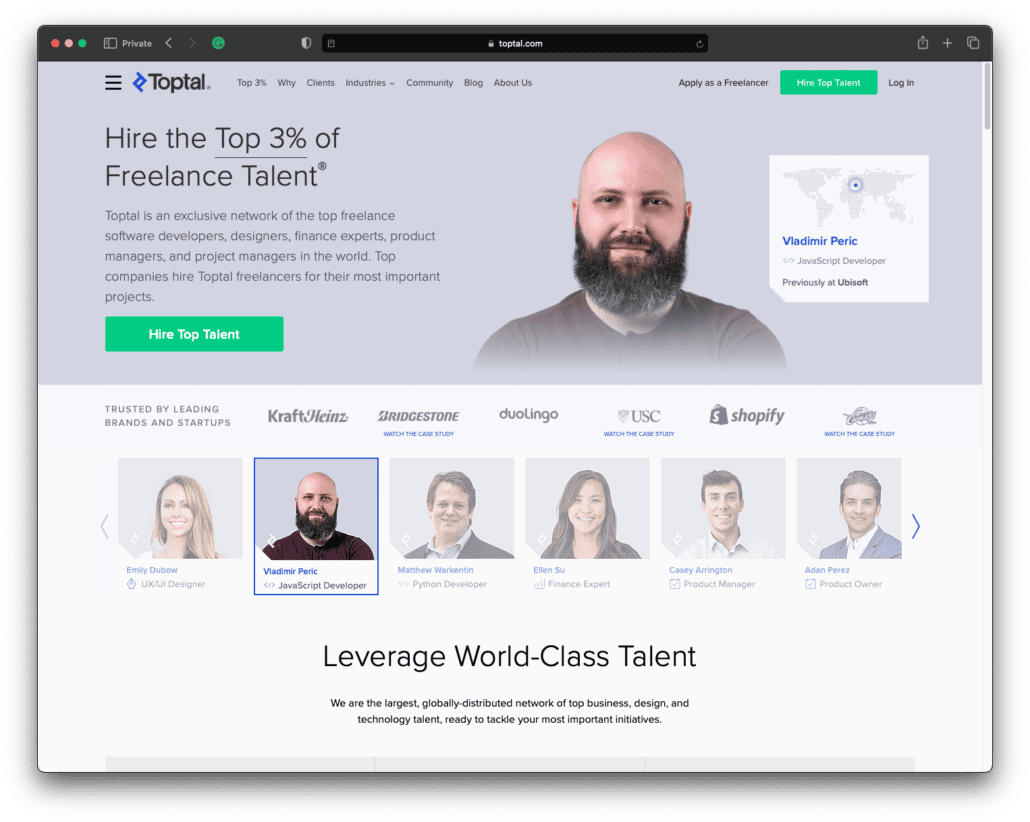 Toptal is a specialized talent marketplace geared towards connecting businesses with the top 3% of freelance talent in areas like software development, design, finance, and project management. The platform boasts a rigorous vetting process to ensure that clients are matched with only the most elite professionals in their respective fields.
Compared to Fiverr, which is a broader platform where freelancers offer services as fixed-price "gigs", Toptal emphasizes deep expertise and a tailored matching process. While Fiverr provides a vast array of services catering to many quick and specific needs, Toptal's model is designed for businesses seeking high-caliber professionals for more complex and critical projects.
Price: Specified by the freelancer, hourly rates can range from $60 to $250/hour
Pros
Elite Talent Pool: Toptal prides itself on offering the top 3% of freelance talent, ensuring high-quality results for clients.
Rigorous Vetting Process: Their stringent selection process means businesses can be more confident in the skills and professionalism of their hired freelancers.
Tailored Matching: Toptal's system focuses on understanding a client's needs deeply and matching them with the most suitable professional, streamlining the hiring process.
Cons
Higher Costs: Given the premium nature of the talent, Toptal's services might come at a higher price point compared to more general platforms.
Less Suitable for Simple Tasks: Businesses looking for straightforward or less specialized tasks might find Toptal's offerings more than they require.
Limited Scope of Services: While Toptal covers several professional areas, it doesn't encompass the vast array of niche services that broader platforms might offer.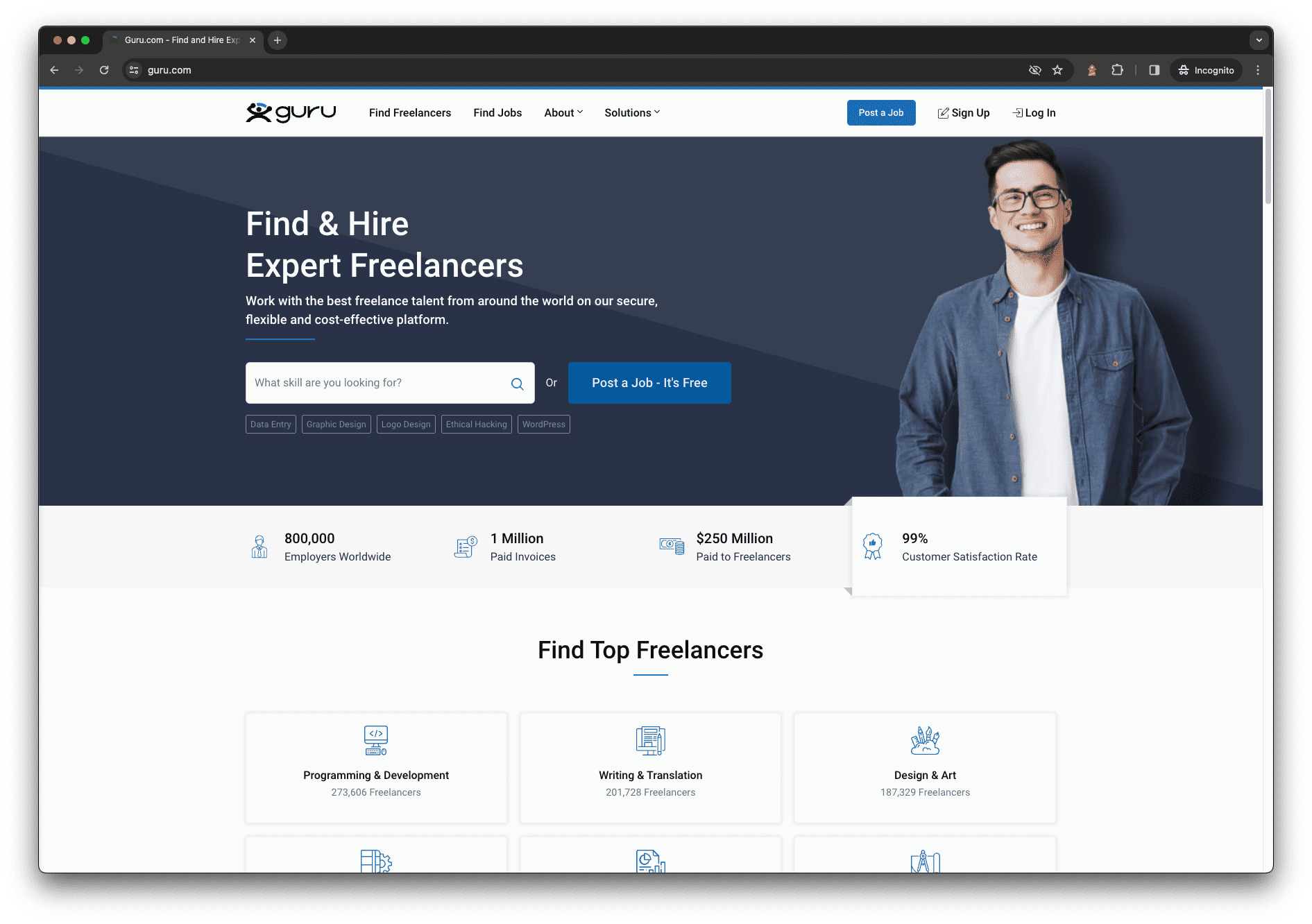 Guru and Fiverr are both prominent platforms offering virtual assistant services to businesses and individuals. Guru emphasizes its tailored workrooms, which allow clients and freelancers to collaborate efficiently, while also providing dedicated support for its users. On the other hand, Fiverr is recognized for its vast array of freelancers and its unique gig-based system, where services are offered in fixed packages.
Both platforms cater to a global audience and have established reputations in the freelance marketplace. While Guru offers a more structured environment for project management, Fiverr provides a broader range of services and pricing options.
Price: Free for first 3 users, $5/month per user after that + individual freelancer rates
Pros
Tailored Workrooms: Guru's specialized workrooms enhance collaboration, allowing clients and freelancers to communicate and manage projects seamlessly.
Dedicated Support: Guru emphasizes providing dedicated customer support, ensuring that any issues or concerns are promptly addressed.
Secure Payment System: Guru's SafePay system ensures that funds are securely held and only released when the client is satisfied with the work delivered.
Cons
Service Fees: Like many freelance platforms, Guru charges fees for its services, which can add up over time for both clients and freelancers.
Learning Curve: New users might find the platform's features and navigation a bit overwhelming initially, requiring some time to familiarize themselves.
Varying Quality: As with any open marketplace, the quality of freelancers can vary, making it essential for clients to vet and select professionals carefully.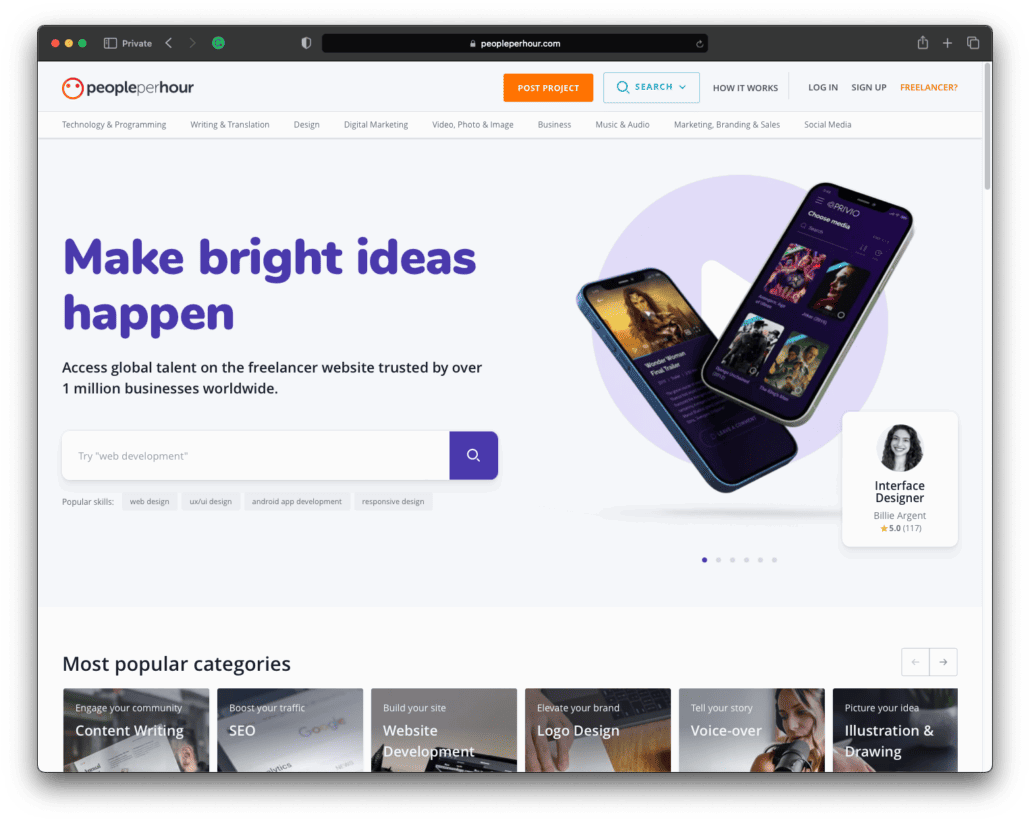 PeoplePerHour and Fiverr both offer a platform for virtual assistant services catering to a wide range of tasks and business needs. PeoplePerHour stands out with its curated selection process, ensuring that freelancers meet certain quality standards before offering their services.
This contrasts with Fiverr's open marketplace approach, where anyone can list their services in predefined gig formats. While PeoplePerHour focuses on quality assurance and provides a more selective pool of virtual assistants, Fiverr offers a broader spectrum of services and price points, making it suitable for various budgets and requirements.
Price: Individual freelancer rates + a service fee for each transaction on a sliding scale
Pros
Diverse Talent Pool: PeoplePerHour boasts a wide range of professionals from various fields, ensuring that clients can find the specific expertise they need.
Secure Payment System: The platform utilizes an escrow payment system, ensuring that funds are only released when the client is satisfied with the work delivered.
Hourlie Feature: PeoplePerHour's unique "Hourlie" system allows freelancers to offer standardized services at fixed prices, making it easy for clients to quickly purchase specific tasks without the need for extended negotiations.
Cons
Service Fees: Guru charges a fee for its services, which can add up for both freelancers and clients, especially on larger projects.
Complex Dashboard: Some users find Guru's dashboard and interface to be less intuitive compared to other platforms, which can pose a learning curve for new users.
Dispute Resolution: While Guru does offer a dispute resolution service, some users have expressed concerns about its effectiveness and the fairness of outcomes in certain situations.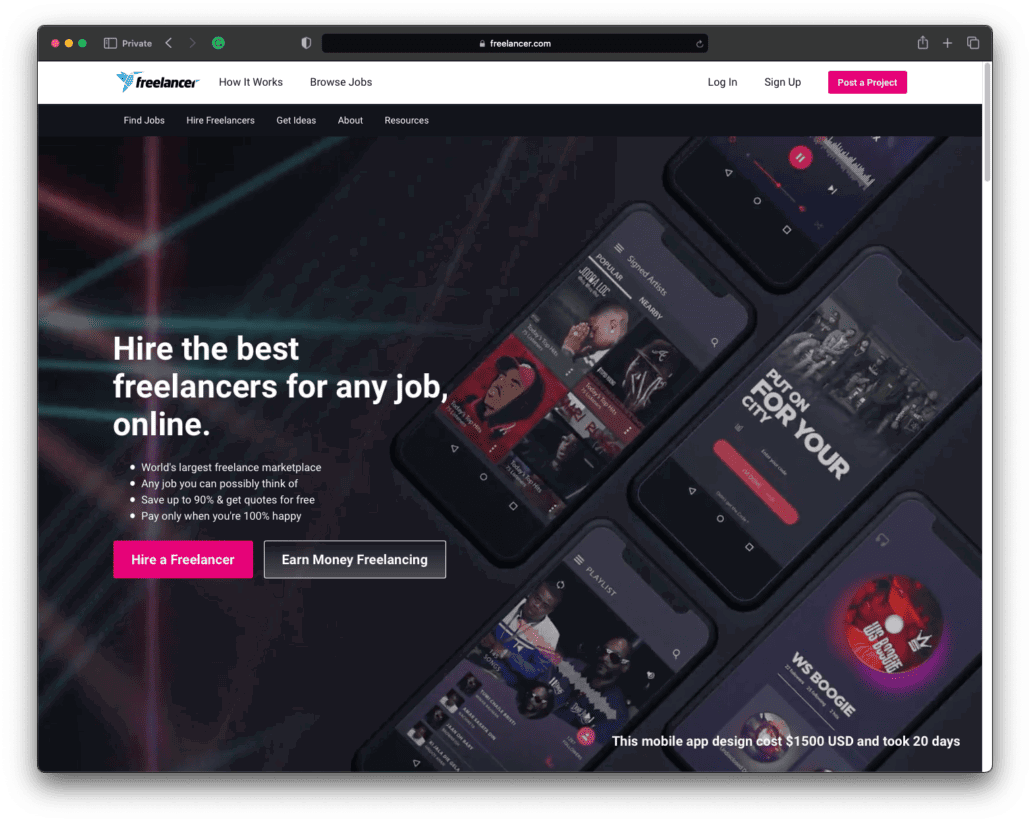 Freelancer and Fiverr both offer virtual assistant services tailored to a variety of business needs, from administrative tasks to specialized digital projects. Freelancer operates as a global marketplace where clients can post jobs and receive bids from potential virtual assistants, offering a dynamic platform for tailored service matching.
On the other hand, Fiverr functions on a gig-based model, where virtual assistants present their services and rates, allowing clients to choose based on predefined packages. Both platforms have their unique strengths, with Freelancer emphasizing customized bids and Fiverr focusing on fixed service packages, catering to different client preferences.
Price: Base plan is $4.99 per month
Pros
Customized Bids: Freelancer operates on a bidding system, allowing clients to receive diverse proposals, ensuring they find a service tailored to their specific needs.
Global Talent Pool: With its vast user base, Freelancer provides access to a wide range of professionals from different parts of the world, ensuring a diverse set of skills and expertise.
Project Milestones: Freelancer's milestone payment system ensures that payments are released only when certain stages of the project are completed, offering security to both clients and freelancers.
Cons
Overwhelming Choices: Due to the sheer number of bids on popular projects, it can be time-consuming for clients to sift through and select the best proposal.
Potential for Miscommunication: With a global talent pool, there might be language and time zone barriers that could lead to misunderstandings between clients and freelancers.
Service Fees: Freelancer charges a fee for their services, which might increase the overall cost of a project, especially for small tasks or short-term engagements.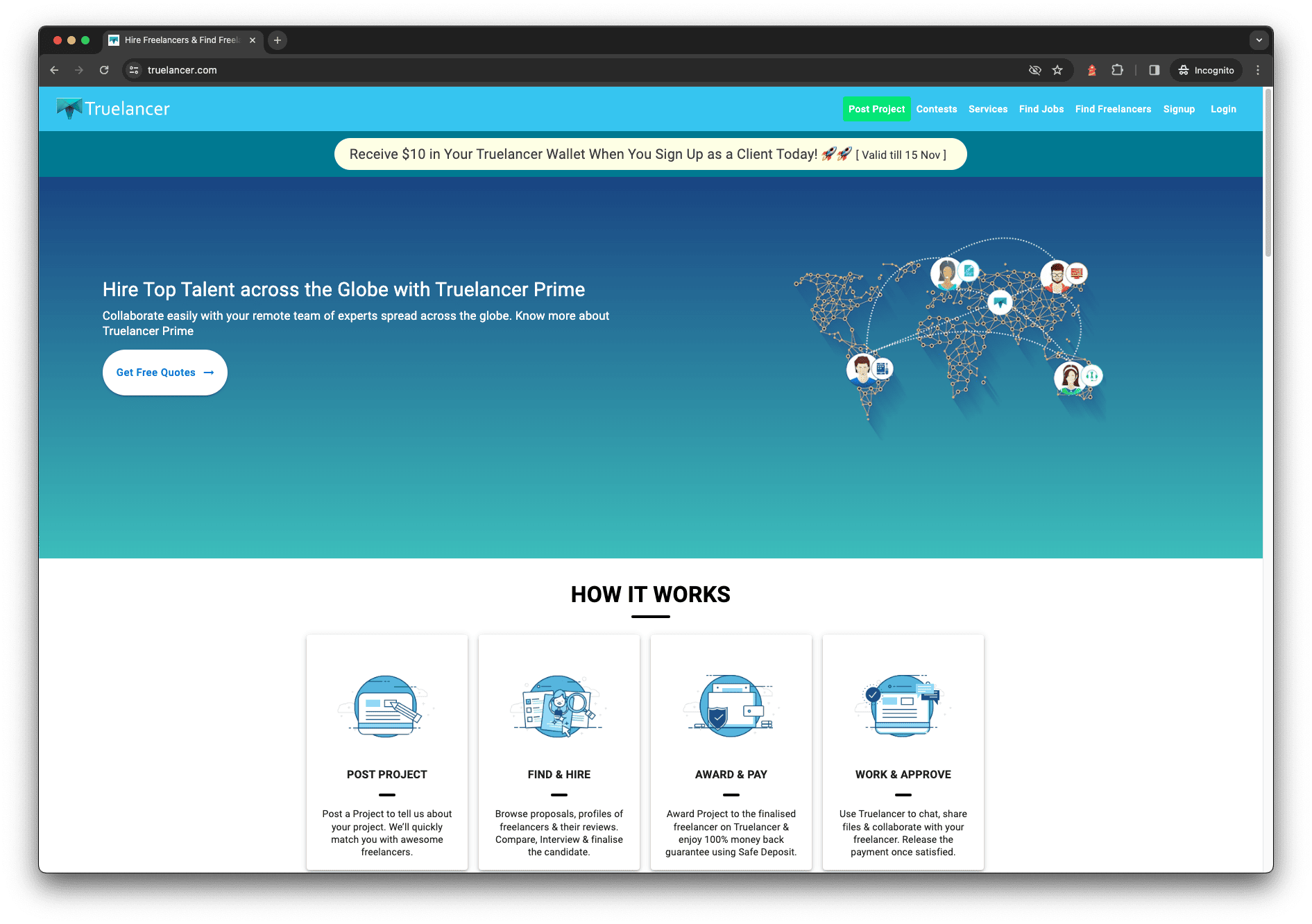 Truelancer and Fiverr both cater to businesses and individuals seeking virtual assistant services for a myriad of tasks. Truelancer operates as a platform where clients can post their requirements and receive bids from freelancers, facilitating a competitive environment for quality and pricing.
Conversely, Fiverr adopts a gig-centric approach where virtual assistants list predefined service packages at set prices. While Truelancer emphasizes a more interactive, bid-driven process, Fiverr offers a straightforward, package-based selection, each addressing different user preferences and project scopes.
Price: Individual freelancer rates + up to 2.8% transaction processing fee
Pros
Interactive Bidding System: Truelancer's model allows clients to post specific requirements and receive competitive bids, ensuring a customized solution for their needs.
Diverse Professional Network: Truelancer boasts a varied pool of professionals from different regions, granting clients access to a wide array of expertise and skill sets.
Secure Payment Escrow: The platform uses an escrow system, ensuring that funds are held securely and are released only upon satisfactory completion of tasks, safeguarding both clients and freelancers.
Cons
Varied Quality: Given the open nature of bidding, there's a possibility of receiving bids from less experienced or lower-quality freelancers, requiring clients to thoroughly vet proposals.
Communication Challenges: Engaging with freelancers from different cultural and linguistic backgrounds might sometimes lead to communication barriers.
Platform Fees: Like many other freelance platforms, Truelancer charges a commission on transactions, which could add to the overall project cost for clients.
Dribbble primarily focuses on showcasing the portfolios of designers and creatives, rather than offering virtual assistant services. Nevertheless, businesses can discover and hire design professionals from Dribbble's rich talent pool.
On the other hand, Fiverr provides a broader range of services, including virtual assistance, through its gig-based model. While Dribbble is more niche, emphasizing visual and design expertise, Fiverr offers a more extensive platform catering to various professional services, from design to administrative support.
Price: Base plan is $99 per month
Pros
Specialized Design Focus: Dribbble offers a concentrated platform for design professionals, ensuring that clients can access top-tier design talent and expertise.
Portfolio-Based Selection: Clients can view comprehensive portfolios, allowing them to gauge a designer's style and quality before engaging, ensuring a more informed hiring decision.
Community Engagement: Dribbble's active community provides a space for feedback, discussions, and design trends, keeping both designers and clients updated on the latest in the design world.
Cons
Niche Platform: As Dribbble primarily focuses on design, clients looking for a broader range of services might find it limiting.
No Integrated Payment System: Unlike some other platforms, Dribbble doesn't offer an integrated payment system, potentially leading to external payment arrangements and potential trust issues.
Limited Job Posting Features: Dribbble's job posting features might not be as comprehensive as those on platforms dedicated solely to freelance hiring, possibly making the hiring process less streamlined.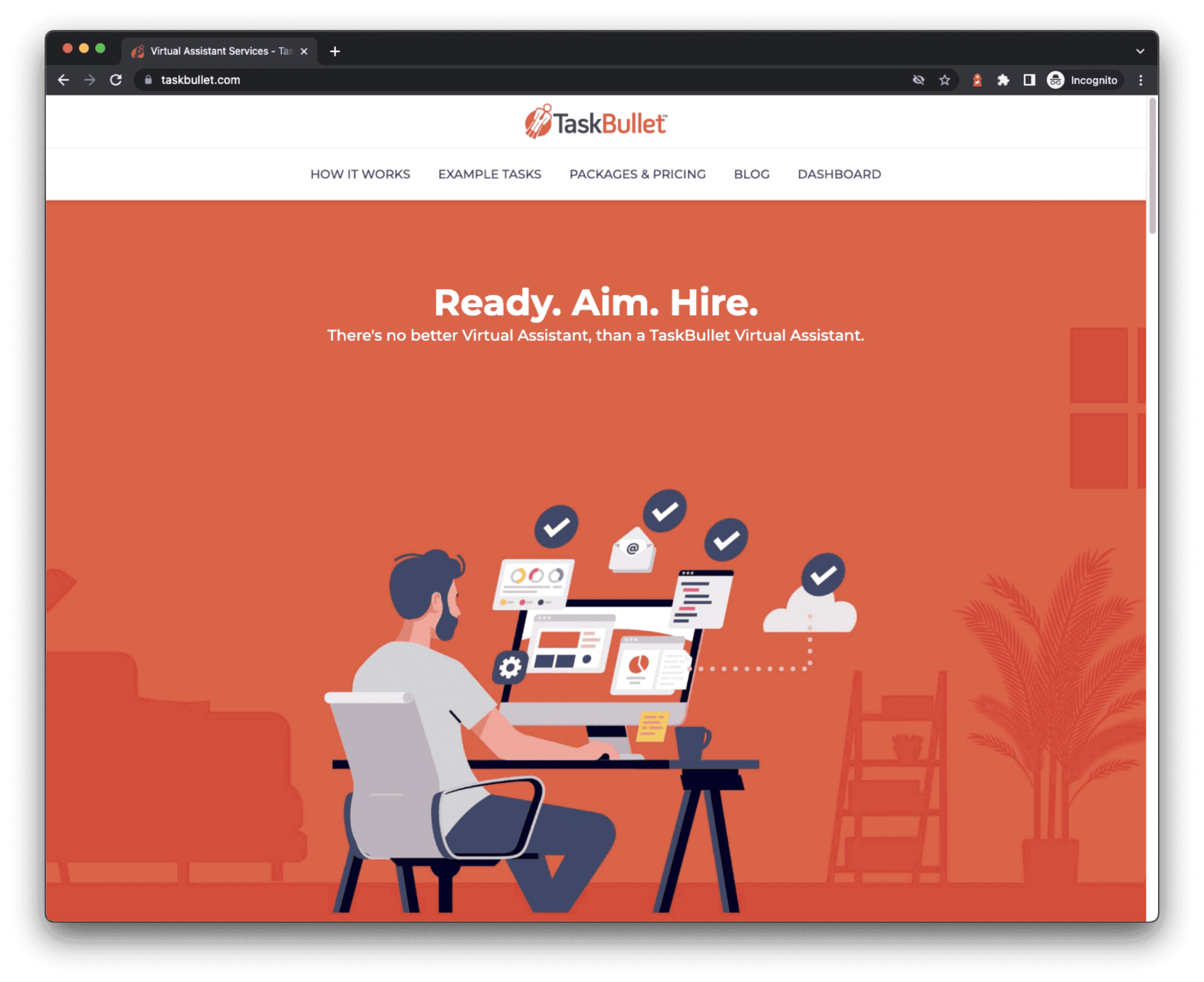 Taskrabbit and Fiverr cater to those in search of virtual and on-site assistance across various tasks. While Taskrabbit primarily focuses on local services and tasks, ranging from home repairs to personal errands, it also offers virtual assistance for administrative duties.
Fiverr, on the other hand, is predominantly a digital marketplace where users purchase predefined virtual service packages. The key distinction lies in Taskrabbit's emphasis on local, hands-on services and Fiverr's specialization in online, digital gigs, each serving different facets of user needs.
Price: Individual freelancer rates will vary
Pros
Local On-Site Services: Taskrabbit excels in providing localized services, allowing users to find professionals in their vicinity for tasks like home repairs or moving assistance.
Background-Checked Taskers: Every Tasker on the platform undergoes a background check, offering an added layer of trust and safety for users.
Transparent Pricing: Taskrabbit provides clear pricing for tasks, giving users an upfront understanding of the costs involved without hidden fees.
Cons
Limited Virtual Services: Unlike platforms dedicated to digital services, TaskRabbit's primary focus is on local tasks, which might limit its offerings to purely virtual assistance.
Availability Constraints: As it relies on local professionals, there might be limited availability or variation in expertise in certain regions or for specific tasks.
Service Fees: Taskrabbit charges a service fee on top of the task's cost, which can elevate the total expense for users.
Choosing The Right Fiverr Alternative
In the world of virtual assistant services, Fiverr stands as a well-recognized platform that operates on a gig-centric model, where services are predefined and priced in packages. However, when compared to competitors such as Freelancer, Truelancer, and Taskrabbit, distinctions emerge. Freelancer and Truelancer both adopt a bidding mechanism, enabling clients to receive multiple proposals tailored to their specific requirements. This competitive environment can be advantageous for those seeking customized solutions. Taskrabbit, on the other hand, has its roots deeply embedded in localized, on-site services, making it a unique choice for those seeking assistance beyond the digital realm. Yet, it's essential to note that while it offers virtual assistance, it might not be as extensive as platforms dedicated exclusively to online services.
Understanding these nuances allows potential users to make informed decisions when browsing for Fiverr alternatives. If one is looking for a vast range of digital services, and platforms similar to Fiverr, then MyOutDesk, Freelancer, and Truelancer are more than suitable. However, if the requirement extends to local tasks, Taskrabbit emerges as a preferred choice. It's crucial to consider factors such as the platform's operating model, the diversity of the talent pool, fee structures, and the kind of tasks they specialize in before making a selection.
With this knowledge, the next logical step is to go deeper into each platform, evaluate the range of services, and read user reviews to gauge the quality of offerings. It's also beneficial to test out a platform with a small task before committing to larger projects. While considering your options, remember to explore our exclusive virtual assistant offerings on our services page, tailored for seamless task management and enhanced productivity.
When you're ready to combine cost-effective productivity with high-value professionals, click the link below to request a free consultation. We pride ourselves on being a valuable resource for diverse professional needs, and we'd love to share those resources with you. Reach out today via the link below to request a free consultation.